It took two and one-half years and over $3,000 in fines, but today (2.19.20) the Econo Lodge in Lakeland is in compliance with City codes.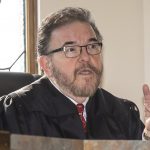 Diptesh Patel and Hinesh Patel from the property at 9822 Huff N Puff Rd came before Judge Kim Koratsky in Lakeland Municipal Court this morning at City Hall.
Katrina Shields, code enforcement officer for the City of Lakeland, said lights on the property have been changed and shrubs planted along Beverle Rivera Drive, as required by code.
Judge Koratsky thanked the men but said it took a while to get to compliance.
He asked Ms. Shields what fine should levied against the property. She said the City recommended a minimum of $2,000 although the maximum at $50 a day would be $3,200.  The City had already assessed the property $1,163.75.
The Judge noted the case against Econo Lodge was opened in August 2017.
Diptesh Patel argued they had already paid enough.  He said from the beginning, their position was that the fines were done unfairly.  He said they only painted the building and he asked why was that a code violation. He added the paint was to Motel 6 standards (the name of the property before it was rebranded to Econo Lodge in June 2018).
Ms. Shields said the building was in place before Lakeland became a city so was a non-conforming structure. When it was painted, it had to come into compliance with City codes, she said.  Once there is a change in appearance, the business must abide by Lakeland current code, she said.
Mr. Patel countered by saying previous owners had painted the building and never been cited. The Judge said that doesn't diminish the violation even if the first person was not caught.
The Judge issued a verdict of guilty and assessed an additional $2,000 and court costs for a total fine to the property of $3,263.  The reasons, he said, are to punish the wrongdoer and set a standard for the community. He said violation of the law is taken seriously in Lakeland.
He added that taking two years to come into compliance is incredible.  The case first started in Shelby County Environmental Court before Lakeland started its own court system.
The men were ordered to pay the additional $2,000 by the next court of March 18th but they paid the fine today.
… Photos by Jim Willis, Lakeland Currents