Contact Chris at: info@mediawize.com
WE AVERAGE OVER 200,000 PAGE VIEW PER YEAR. A GREAT VALUE FOR YOUR ADVERTISING DOLLARS.
In the past three years Lakeland Currents has had over 650,000 page views. Click on the image below for Google Analytic stats.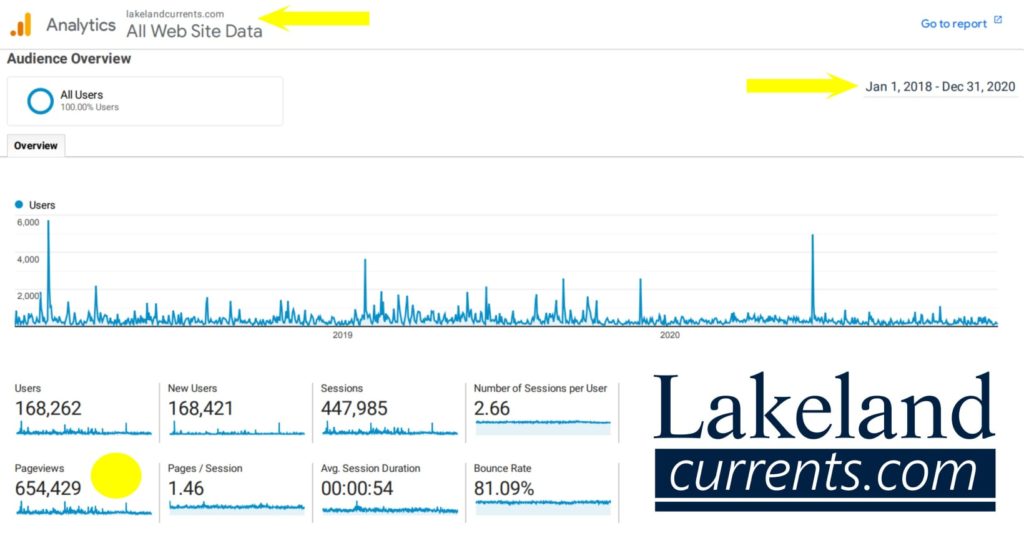 All ads include a link to the landing page of your choice as well as a Facebook post announcing your sponsorship. Lakeland Currents currently has over 3,000 Facebook followers.  All ads require a 3 month commitment.
One Month – Premium Advertising Options. These banner ads appear on every page of the site.
Top Banner – $250 (on every page of the site)
Article Ad – $200 (ad inside every article for a month)
NEW Email Sponsor – $150 (Currents sends out periodic news alerts and news recaps for the week to a list of locals who sign up for email alerts. That list is currently 652 and growing. Your logo will be on each email as the sponsor. This spot also includes a sidebar ad on the local business, events and sports sections of the site. A great value).
Bottom Banner – $100 (also on every page of the site)
One Month – First Tier Advertising Options. These ads appear on the most trafficked areas of the site.
The Home page and all local news articles (sidebar):
Top Ad – $150
2nd Ad – $132
3rd Ad – $114
4th Ad – $100
One Month – Second Tier Advertising Options. Ads appear on the 2nd most trafficked areas of the site.
Local Business, Local Events, and Local Sports (sidebar):
Top Ad– $85
2nd Ad – $75
3rd Ad – $60
4th Ad – $50