Ashmont, the mixed-use development located on the 99-acre property situated at the intersection of Beverle Rivera and Canada Road, is officially in the initial stages of ground clearing work. The property, which was previously owned by John Hyneman, was sold to local developer Vince Smith earlier this year. Mr. Smith is also the developer of Lakeland Town Square located off Highway 70. As of Wednesday afternoon, June 21, 2023, heavy equipment was starting to be delivered and some minor work has already begun on the property. The ground disturbance permit for the development was previously approved by the city in June of 2022. However, the final design plans have yet to be reviewed by the MPC (Municipal Planning Commission) and the BOC (Board of Commissioners). More about the original meeting and approval can be read here.
Shawn Massey, with commercial real estate firm TSCG (The Shopping Center Group), said in a Facebook post they were pleased to start offering commercial space within the development. "We are pleased to announce the availability of a remarkable commercial property in Lakeland, TN. This property is part of the Ashmont Mixed Use Development, which encompasses a diverse range of residential options including single-family homes, townhomes, senior living facilities, medical offices, and retail spaces," he said on his Facebook page. Mr. Massey also unveiled an updated layout of the property which can be seen below.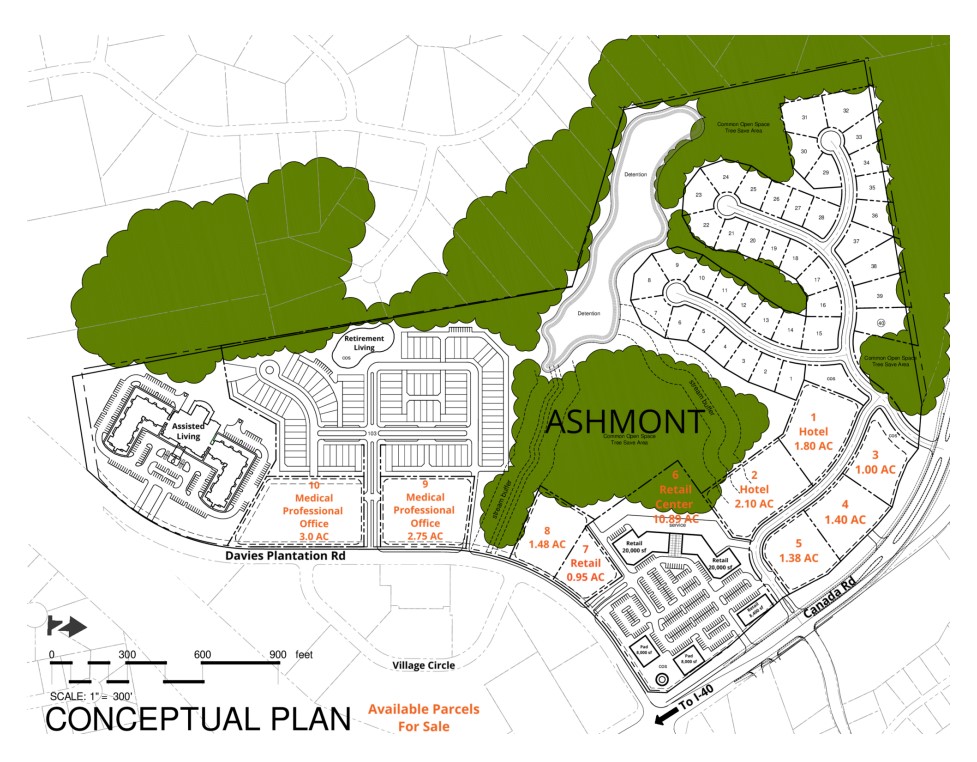 The updated design includes larger single-family residential lots in the northern section, an increased focus on senior living housing, and the omission of the previously approved row of townhomes located behind the retail commercial area. Additionally, the plans incorporate two hotel locations. There is also potential for medical offices and other amenities that cater to the needs of the Lakeland community, but updated plans would need to be submitted and approved by the city at a yet unscheduled meeting.