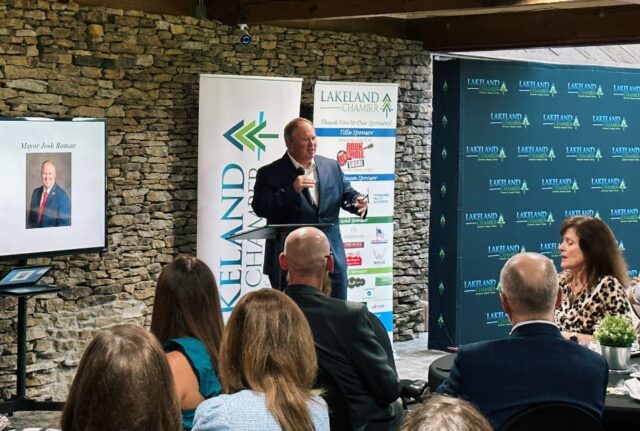 Mayor Josh Roman, now completing his ninth month in office, delivered a state of the city address at the Lakeland Chamber luncheon this week, sharing with the audience a historical journey through Lakeland's evolution since the early 2000s.
The mayor began by reminiscing about the community's ambitious endeavor to establish our own school system, which faced setbacks with the unsuccessful bond vote for the construction of a middle and high school. Despite the challenges, Lakeland persevered, funding the middle school through a tax increase and securing a USDA loan for the subsequent high school construction. The narrative of Lakeland's last eight years, marked by adversity, has been reshaped by significant strides in upscale commercial growth, park investments, and notable achievements in the school system.
Mayor Roman has also helped spearhead the overhaul of Lakeland's Gateway area north of the Interstate 40 and Canada Road interchange. The city passed a tax increase recently to help fund the purchase of two old hotels which will pave the way for redevelopment in those areas, including a new Lakeland YMCA that he expects to be open by the summer of 2025. The city has also come to an official agreement to purchase the Relax Inn, as well as the empty Belz property located next to it. The city purchased the old Econo Lodge motel earlier this month and that property it set to be demolished soon.
Mr. Roman also said plans are underway for a potential Shelby County Sheriff's Office (SCSO) office where the Econo Lodge is currently located, although an agreement is not in place for the SCSO office at this point.
There's also a potentially exciting development as Lakeland hopes to attract the renowned Orpheum Theatre Group for a groundbreaking 1,000-seat Halloran Centre for the Performing Arts & Education. The proposed site for this cultural hub would be in The Lake District. Mayor Roman, optimistic about this prospect, anticipates providing more detailed information in the near future.
As Mayor Josh Roman approaches his first full year in office, Lakeland continues the transformation into a thriving city, with strategic initiatives and visionary leadership paving the way for a promising future.