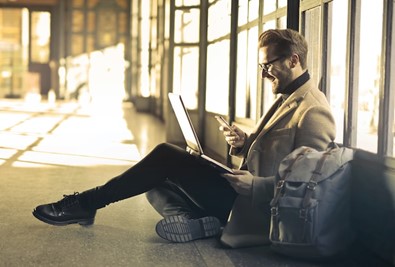 Mark Pizur is a busy entrepreneur who frequently travels for business and corporate events. In the following article, Mark J. Pizur discusses how individuals can make traveling for work an enjoyable opportunity to see the sights and explore new cultures, all while getting the job done.
Traveling for business or pleasure? Why not both?
For too long, business travel and vacation travel were seen as incompatible. Since the COVID-19 pandemic, an increasing number of people began to work remotely — and even have the option of traveling for most of the year and bringing their work along for the ride.
Mark J. Pizur says that even those who are traveling primarily for business are finding more options to incorporate a pleasurable experience seamlessly into the agenda. Here's how to combine personal and professional travel easily.
Mark Pizur Says Plan the Basics Ahead of Time
Whether it's a work trip or a family vacation that incorporates some time for work, it pays to think ahead and pinpoint some goals related to the trip. By figuring out what someone wants to get out of work and personal travels, it becomes easier to plan for each day and not leave out anything important.
Think about what the day-to-day schedule may be when it comes to the job and what is needed to make a workday effective. Will there be a great location to get some work in on the trip?
Mark J. Pizur says that it's important to set a time limit to devote to the job each day. Is there a time of day that will be best? Is there a balance needed between Zoom calls and meetings by phone?
Embrace Passions in Small Ways
Look at work travel as a way to also feed personal hobbies and interests. Foodies can take enjoyable work breaks by exploring a destination's restaurant scene and booking reservations at the most impressive offerings.
Mark J. Pizur says that for those into sports, inquire about upcoming professional games taking place during a trip and snag some tickets for a restful afternoon.
Love culture and history? Traveling for a job often means setting up shop in big cities that host renowned museums of science and art. A little bit of fun, with tailored experiences go a long way, especially on an extended work trip.
Get Social
Many employees thrive in a collaborative and conversational work atmosphere. That's challenging to accomplish during a work trip, but it's far from impossible according to Mark Pizur.
Start by figuring out where to get work done. This may be a public place, such as a coffee shop, café, or park, if one likes the ambient noises of hustle and bustle in the background. These are also great places to meet fellow work travelers or locals with the potential to offer great ways to maximize fun time.
Devote a Day to No Work
Mark Pizur says that no two work trips are created equal, and chances are that they don't come with the same demands and routines of a typical 9-5. If possible, block off a day, perhaps in the middle of the trip to take a break and prioritize fun.
This could be as simple as spending a long day walking around different neighborhoods to get an up close and personal feel for the place you've come to visit.
An idea would be to set aside time to work each morning and then call it quits for the day by 1 p.m. Depending on the line of work, blocked time could come in the morning with a few hours set aside at night for work. Figure out what fits best for both business and personal travel goals explains Mark Pizur.
Don't Forget Family and Friends
Half of business travelers say missing family members is the most stressful aspect of the job, according to one study.
Being away from family can be tough for a few days, let alone the few weeks that some corporate travelers need to endure. Check to see if it's possible for the family to tag along on a trip, but also think honestly about whether it will be feasible to balance both work and family time.
If having loved ones on the trip doesn't work out, perhaps there are workplace friends that are traveling to the same location or for the same conference. Mark Pizur says that it's likely they're busy, too, but it doesn't mean they can't be a part of going out to eat for lunch, dinner or sightseeing.
The feeling of isolation during work travel is very real. The most effective way to combat that can be simply taking time to enjoy the location, culture, and opportunity that comes with it.