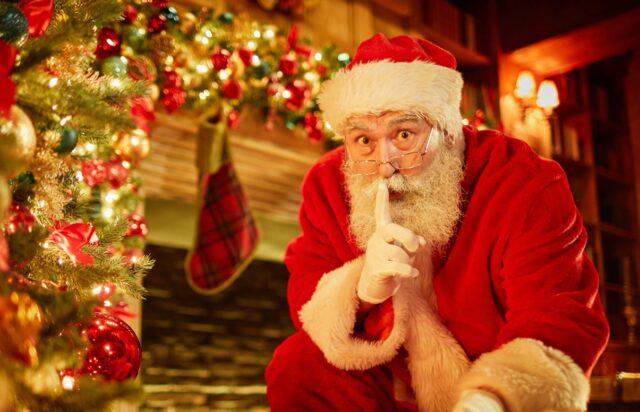 To help get Lakeland in the Christmas spirit this year a Lakeland resident has submitted a revised version of a timeless Christmas classic. Enjoy…
Twas the Night Before Christmas In Lakeland, TN
By Brenna Shelangoski
'Twas the night before Christmas, when all through our town
Not a creature was stirring, they'd all settled down.
The lights were all hung on the houses and boats
In hopes to earn one or two Festival votes
The children were nestled, all snug in their beds
While visions of Frost cookies danced in their heads.
And mama in her spirit wear and I in my cap
Had just settled our brains for a long winter's nap
When at the Lake District there arose such a clatter
I flew right down Canada to see what was the matter
Away to the Starbucks I flew like a flash
(Grabbed a tall latte and handed them cash)
The moon on the breast of the new fallen snow
Gave lustre of midday to retail below
When what to my wondering eyes did appear
But a miniature sleigh and a man spreading cheer
With a little old driver so lively and quick
I knew in a moment in must be St. Nick
"These places," he declared, "Are the reason I came."
And he pointed and shouted and called them by name:
"There's Stretch Lab! And Olive House! Boba Society!
Chosen Lines! Thank goodness- no more anxiety!
To my bag they must go! Yes, I'll take it all!
Now stash away, stash away, stash away all!"
(You see, Santa's workshop was down a few elves
And ran out of time 'fore they filled up the shelves)
He purchased the gift cards, the food, and attire
Crossed all off his list- it was down to the wire!
Then out of the parking lot the reindeer they flew
With the sleigh full of gifts and St. Nicholas, too
He made his first visit out at Heron's Ridge
And stopped at each house past the lake to Stonebridge
He finished up quickly- in time for some fun
Took selfies with lions (he found every one)
Then off to IH for a hike in the dark
And then took his reindeer to roam the dog park
Next he was off to the City Hall field
Where his belly shook as he laughed and he squealed.
His eyes how they twinkled! His dimples, how merry!
His cheeks were like roses, his nose like a cherry!
His droll little mouth was drawn up like a bow
And the beard on his chin was as white as the snow
"What a town!" he exclaimed- but I must get to work.
Then he put on his hat and he turned with a jerk.
He sprang to his sleigh, to his team gave a whistle
And away they all flew like the down of a thistle
But I heard him exclaim, ere he drove out of sight-
"Merry Christmas, Lakeland! And to all a good night!"