On a day when the Dow and S&P soared to new highs, a novel grocery store was announced for The Lake District (TLD) — called "The Stock Market."
Speaking at a called meeting of the IDB (Industrial Development Board) tonight (11.30.17), Yehuda Netanel announced the independently owned, local grocer will be a big catalyst to development of the mixed-use community at the southeast corner of I-40 and Canada Road in Lakeland.
The IDB members met in special session to amend the bylaws, approve a debt management policy, approve a compliance and remediation policy for IDB and install two members to the Board: Keith Acton and Shaun Brannen.  Mr. Netanel came to give a progress report on his project.
Mr. Netanel, president of Gilad Development Corp., said the 35,000-45,000 square-foot store will be supplied by Associate Wholesale Grocers.  "It will be Lakeland's very own store, associated with Lakeland," he said.  "We are totally excited.  This becomes the catalyst for The Lake District."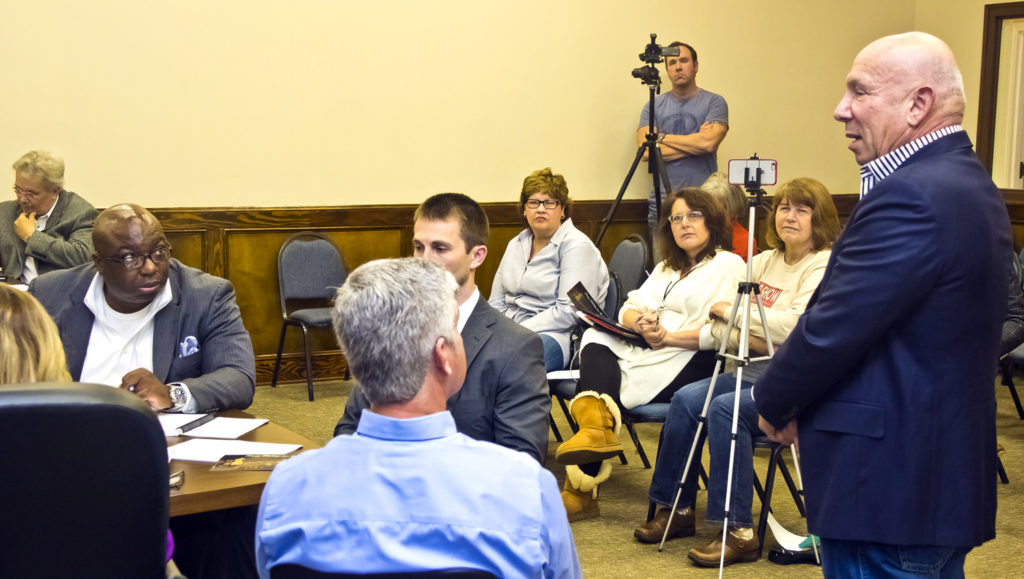 He noted the grocery has been branded and copyrighted and will be the first in the country right here in Lakeland. He said it will offer regular groceries as well as fresh meat and seafood and a farmer's market on weekends.
In his presentation to the IDB, Mr. Netanel also discussed the foreclosure woes which plagued the property this summer.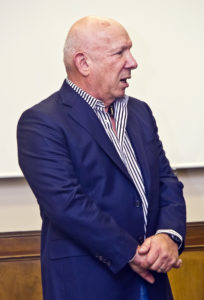 He announced all foreclosure proceedings against him have been satisfied with the last required payment made yesterday to Tremont Realty Capital.
His first payment was $1 million, second one $500K and the third payment $2.1 million. "We are no longer in foreclosure.  End of story," he said. "I know you've been losing sleep over the summer (about the foreclosure)," he said.  "But it's not even in our rear view mirror.  We are super excited."
A foreclosure notice in the Memphis Daily News Aug. 16 gave City officials and local citizens pause, wondering if the grand project would ever come to fruition.
In other news about the upscale 160+ acre community, he said he expects to close on the Belz property adjacent to the mall acreage July 2018. The development will surround a 10-acre lake and waterways and will offer weekend rapids for kayakers, said Mr. Netanel.
Mr. Netanel said demolition of the property is ahead of schedule and work has started inside the mall building. That work must be finished by April but he expects the project to be completed much sooner. He added there are some issues with MLGW so, "If you notice that nothing is happening, it's because of MLGW."
He also noted that 85 percent (by weight) of the old development is being recycled including steel and aluminum extracted from the site.  Part of the material will become a part of TLD.
He said there are about 35,000 tons of concrete, masonry and asphalt on site already in the form of foundation, masonry walls, concrete slabs and asphalt. All will be pulverized on site to become clean aggregates for road material. Almost half of the one million square feet of parking will be sourced from material on site. Mr. Netanel said this will reduce about 3,500 truckloads of aggregates needing to be delivered.
Some were concerned, he said,  about a change in the site plan.  He said big box stores which have been shuttered won't be built at the development. But there will be more quality homes, restaurants and high-end retailers.
Shawn Massey with The Shopping Center Group provided a Lake District financial analysis to IDB members.  On the 2017 site plan, property value is estimated to be $326,973,000 compared to the 2016 plan value of $294,650,000.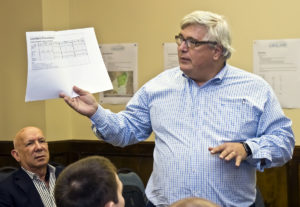 Square footage drops from 580,000 to 399,540.
Property tax for Lakeland is estimated at $1,564,198 from $1,351,000 on the 2016 plan, a change of 15.8 percent.
Considering all the components of the site plan, Mr. Massey said the project overall is up 1.8 percent, which does not reflect any hotel sales. Two hotels are planned for the property with 300 beds. "There are no projects like this in Memphis and we can't compare Lakeland to Nashville or Atlanta," said Mr. Massey.
Alan Johnson, IDB vice chair, asked when a revenue stream might start from TLD.   "Late 2019, early 2020," said Mr. Netanel.
And finally he commended Board members on their work to building a high school in Lakeland.  "I am excited about your work on the high school. We are the largest residential developer in Lakeland with 345 homes.  I am very excited this important element of higher education is coming soon. You are in the process of getting it through the system.  Kudos to your Board.  We are very excited. Thank you."
… Photos by Jim Willis, Lakeland Currents..