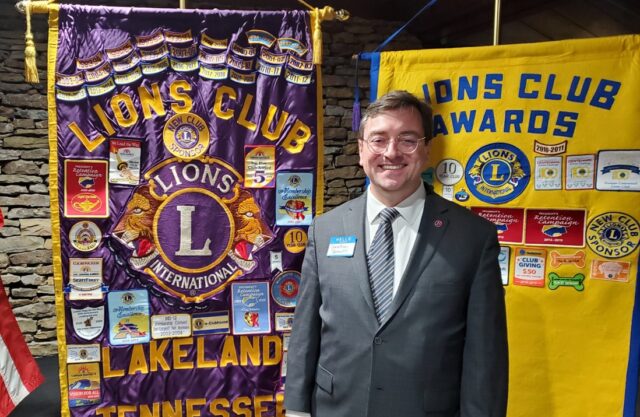 by Alan Larrabee
The Lakeland Lions Club was honored when Tennessee State Attorney General Jonathan Skrmetti came to speak and share dinner with us at our February 21, 2023, meeting. Lakeland City Commissioners Wesley Wright and Connie McCarter also attended and added to the discussions about local issues.
Attorney General Skrmetti was sworn in on September 1, 2022, and is currently serving an 8-year term. He previously served as the Chief Deputy Attorney General under (then)General Herbert H. Slatery III and then as Chief Counsel for TN Governor Bill Lee. Prior to this, General Skrmetti was a partner at Butler Snow LLP in Memphis. Before joining Butler Snow, he served as a federal prosecutor for the Civil Rights Division of the U.S. Department of Justice and then as an Assistant U.S. Attorney. He also taught cyberlaw as an adjunct professor at the University of Memphis Cecil C. Humphreys School of Law. He earned honors degrees from George Washington University, the University of Oxford, and Harvard Law School. The Attorney General is the chief law enforcement officer and lawyer for the state.
General Skrmetti stressed that Tennessee is unique among all the other states in that the Attorney General is appointed by the Tennessee Supreme Court, rather than by the governor or through election. This allows him to remain fully focused on the job at hand rather than be concerned with the politics associated with re-election/re-appointment. His office includes 180 attorneys and 150 support staff who are currently responsible for over 13,000 cases. The cases vary from small to multimillion dollar school funding lawsuits. Some of the cases may involve constitutional challenges where the federal government has overstepped their authority. A major responsibility of the Attorney General's office is to defend the sovereignty of the state of TN. General Skrmetti explained that in such cases, he would be required to bring a suit against the federal government seeking an injunction to protect that sovereignty.
Our attorney general has an extensive background in dealing with cybercrime and consumer protection. He said there is a concern that large corporations can band together to direct things in their favor over the rights of the consumer. He mentioned issues with Google, Ticketmaster, Facebook, and his dealing with social media, especially concerning its effect on our teenagers and children. He will be having a town hall meeting on these types of issues in Jackson TN on March 9th, 6pm, at the Southwest Development District and interested parties are welcome to attend and voice their concerns.
The Lions Club is the largest service organization in the world with clubs in over 200 countries. You may have noticed our pecan sale stands at Krogers and other businesses throughout the holiday season. We focus on five major areas of need: vision, diabetes, hunger, childhood cancer and the environment. Profits from these sales allow us to donate significant funds for our focused areas of need as well as other needs of the local community.
The Lakeland Lions club meets the third Tuesday of each month at 6:30 PM at the Lakeland Paddle and Golf Club, here in Lakeland. Our meetings always feature an interesting speaker and dinner. We gladly welcome new members who are looking for fellowship and community service.
If interested in joining the Lakeland Lions Club, please call president Alison Ely at 901-568-4132.