The Tennessee Commissioner for Education (DOE), Dr. Penny Schwinn, visited Lakeland Elementary School (LES) yesterday (8.16.19) and said, "It's a beautiful, beautiful school community."
Dr. Schwinn visited LES as part of her goal to visit every Tennessee school district within her first year as commissioner.  She was sworn in as the education commissioner Feb. 1st.
She was greeted at the front door by fourth graders Coey Criswell and Najwa Houssein.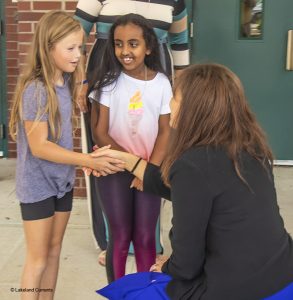 Commissioner Schwinn was accompanied by Hope Soriano-McCrary, director of strategic engagement for the DOE.
When asked to comment about the Lakeland School System receiving state accolades this week, she said," It's not surprising after what I saw today."  She added that the LES students show a deep love of learning.
Commissioner Schwinn spent about an hour visiting with students and teachers in three classrooms and informally met with LES Principal Joretha Lockhart and Lakeland School System Superintendent Dr. Ted Horrell.  She sat among the first, third and fourth grade students as they were directed by their teachers for afternoon work.
Link to Google album:  https://photos.app.goo.gl/4RHhLUqaxcvTDML29
Her first stop was with fourth graders in Cristin Muston's room.  She then went to the third grade class of Brandy Summers. Her final classroom stop was to Ericka Ramage and her first grade class.
Afterwards she talked with Lakeland School Board Members Michelle Childs, Kevin Floyd and Deborah Thomas as well as Angie Delloso, assistant superintendent of academics and exceptional learning, and Kim Louis, instructional facilitator for grades K-4.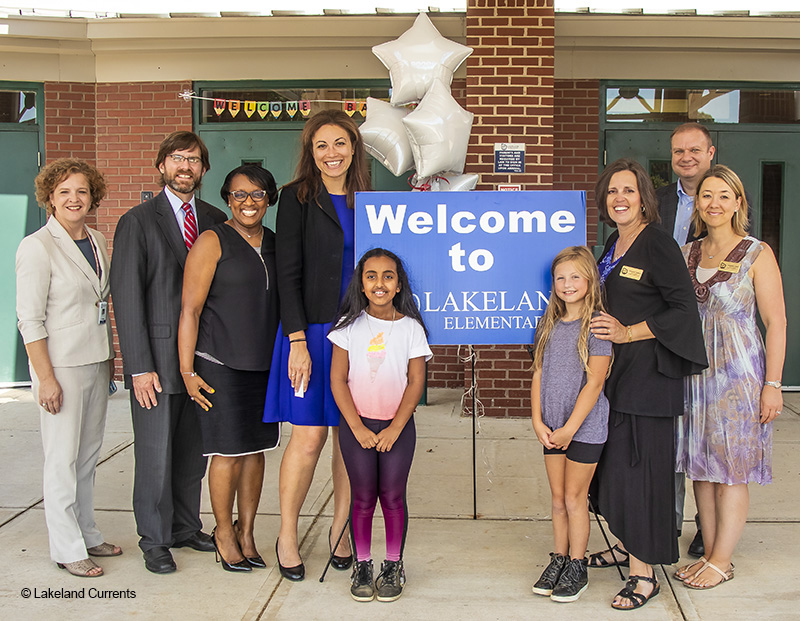 As she ended her visit at LES, she inscribed a book to the school, The Star People, and gave to Mrs. Lockhart.
Thursday the DOE named Lakeland School System (LSS) an Exemplary School District for the third time in four years of eligibility, and both of Lakeland's schools were named 2018-19 Reward Schools.  Dr. Horrell said the DOE released data showing the Lakeland School System is the #1 ranked district in the state for grades 3-5 achievement, and the #2 ranked district in the state for grades 6-8 achievement.
Lakeland high school students attend Arlington High School through an interlocal until a high school is built in Lakeland.  City officials are awaiting word this month on approval of a USDA Rural Development loan which would finance the first high school in the City, possibly opening in August 2022 to 9th graders.
… Video, photos by Jim Willis, Lakeland Currents