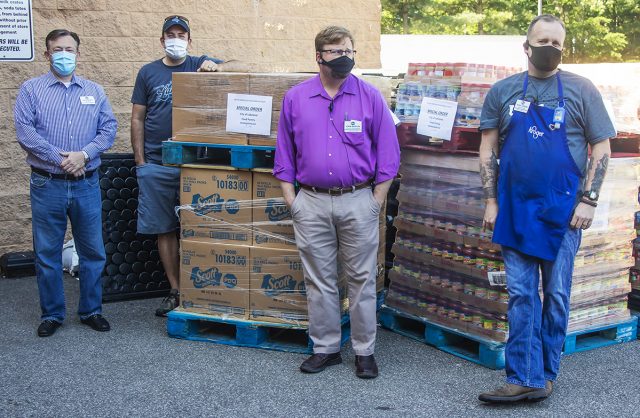 By Deborah Thomas, Lakeland School Board member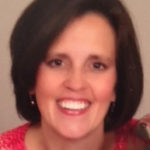 The City of Lakeland and St. Paul United Methodist Church partnered for the second time in two months to help Lakeland residents in need of food and household supplies during the COVID-19 pandemic.
The effort was made possible by the city's contribution of up to $7,000, which was approved unanimously at the Board of Commissioners meeting in May. In addition, Wil Ashworth of State Farm Insurance in Lakeland and president of the Lakeland Area Chamber of Commerce,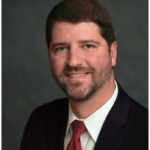 contributed an additional $1,000 towards the effort. The actual cost of the five pallets of food and household supplies totaled $7,958, an increase of $1,130 from the first distribution of four pallets of goods in April.
Items purchased included soup, canned ravioli, peanut butter, tomato sauce, pasta and pasta sauce, oatmeal, and toilet paper. Items were picked up May 30th and delivered to St. Paul, where volunteers packaged them for distribution to Lakeland families. Lakeland School System (LSS) personnel again assisted in the effort by reaching out to families who might benefit from the supplies.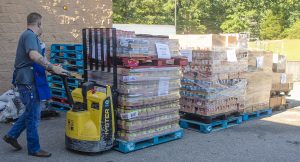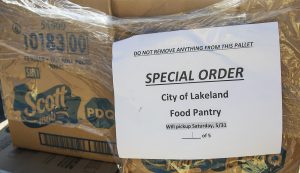 Commissioner Wesley Wright, who made the motion to approve the funds at the May 14th Board of Commissioners meeting, picked up the pallets at Kroger, aided by Tim Roberts, Lakeland resident and manager of the Kroger, 9024 U.S. Highway 64. "It was great to see the amount we were able to procure and know it would be of great help to Lakeland residents," said Commissioner Wright. He added, "I also have great appreciation for St. Paul and their willingness to serve and give of their time in this endeavor."
Unlike the first distribution of food and household goods to Lakeland families in April, which involved the delivery of items to residences, this time around the families picked up their items from the church between Saturday (6.6.20) and Monday (6.8.20) during designated hours. In total, 259 people were served, representing 57 Lakeland families. This more than doubled the number of families served in April during the first distribution, in which 124 people were served, representing 26 families.
St. Paul United Methodist volunteers included Brad Emerson, Missions Coordinator; Sam Belcher, Youth Director; Bob, Karen, and Shelby Udovich; Russ and Leigh Etters; Karlene and Emily Koesterman; Tracie and Katie Stephens; Bill Clemmons; Sharon Higgins; Kim Siano; Sheryl Goddard; Ainsley Emerson; and Garrett Kirk. These volunteers represent multiple age groups, from youth to adult.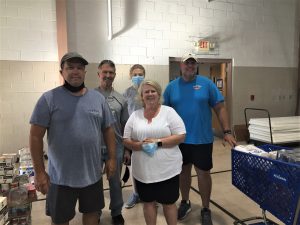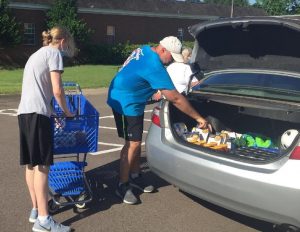 "We were hoping to continue this food ministry in our community and were excited when the City of Lakeland reached out again," said Mr.  Emerson. "St. Paul is so grateful to have the opportunity to help families in our Lakeland community during this difficult time."
… Photos by Jim Willis, Lakeland Currents and St. Paul United Methodist Church