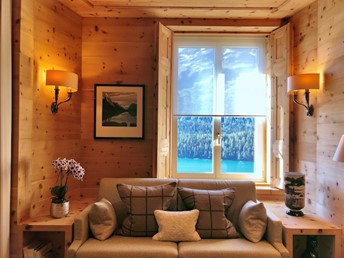 Sarah Mahmoud of Nashville is an interior design aficionado who enjoys styling and decorating her home with the latest trends. In the following article, Sarah Mahmoud discusses how to achieve a warm, cozy home with a few simple design steps that anyone, with any budget can achieve.
Creating a cozy, comfortable room seems simple, but trying to create an entirely cozy atmosphere throughout the home can be a completely different challenge.
Soft textiles and furnishings are some of the key factors when it comes to creating such a feeling in interior design. Not only do they add texture, but focusing on natural materials can add a comfortable feel. A warm color palette and ambient lighting also create a perfect space for relaxing.
Sarah Mahmoud of Nashville dives into the details below on how to create a warm and inviting living space.
Sarah Mahmoud Says to Use Warm Tones
When used in interior design, warm colors can create a welcoming atmosphere in a home. They can make a space feel more intimate, and they can also make it feel more vibrant and lively. Warm colors can be used in a variety of ways, such as through wall paint, furniture, accessories, and textiles.
For example, Sarah Mahmoud explains that using warm-toned throw pillows, blankets, and rugs can create a sense of relaxation in a living room or bedroom. Warm wood tones in furniture and flooring can also add to the feeling of warmth and comfort in a space. Additionally, using warm-toned lighting, such as amber or soft white bulbs, can create an enticing ambiance.
Considered Paint Coverage
Sarah Mahmoud explains that the way in which a room is painted can also directly influence how it feels. Try using paint colors to accentuate the architecture in the room.
Contrary to popular belief, painting the ceiling black or similar dark colors (such as navy or amber) can also add to the coziness of a space without making it feel too claustrophobic. Especially when paired with ambient lighting, a painted ceiling can add an air of relaxation.
Focus on Flooring
Having bare wooden boards or tiles can often make a space feel cold and incomplete. Tie the room together by incorporating area rugs for a splash of color and texture.
Carpet can also be a great way in which to add to a room, especially if it is in a neutral tone and with a plush texture. Bamboo flooring and some textured stone in older properties can also help to bring to emphasize the desired atmosphere explains Sarah Mahmoud of Nashville.
Layer it Up
In the same way that we put on extra layers to stay warm in colder weather, using the same philosophy when it comes to interior design is a trend that will never go out of style.
Layering together a throw and a selection of different textured cushions helps to build a sense of calm on beds and couches, and layering rugs can also provide a relaxed feel.
Soft Furnishings
Sarah Mahmoud of Nashville says that soft furnishings such as cushions, throws, and rugs can add texture to a room, making it feel more comfortable and inviting. Using materials such as plush wool, soft cotton, or fluffy fur, creates a cozy atmosphere that encourages relaxation and comfort.
Soft furnishings can also help absorb sound, making a room feel more peaceful and relaxing. Thick curtains, plush carpets, and upholstered furniture can all help to dampen noise and create a more serene atmosphere.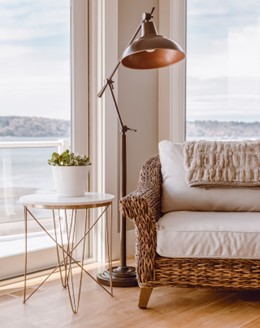 Light the Way
Lighting choices can also affect the ambiance of a room and can sometimes be the difference between making a room feel warm or cold, reports Sarah Mahmoud of Nashville.
White lighting can sometimes feel stark or 'too bright', it's best to choose warmer bulbs with a yellow or orange tone to create a comforting atmosphere. Use smaller lighting fixtures to increase the light in the room, such as lampshades, candles, and smaller clusters of pendant lights.
Also, be conscious of what level of light will be needed at different times of the day. Starting to slowly cut down on the level of light as the day progresses helps to build a cozy environment come the evening to be able to settle down in.
Embrace Hygge
Sarah Mahmoud says that an interior design buzzword a few years back, the Scandinavian concept of "hygge" is something to really take inspiration from to create a home with a calm and cozy feel for yourself and your guests.
With a focus on natural materials and textiles such as wool, cotton, and linen, as well as house plants, and minimal clutter, hygge aims to create spaces that are perfect for relaxing and enjoying the simpler things in life.