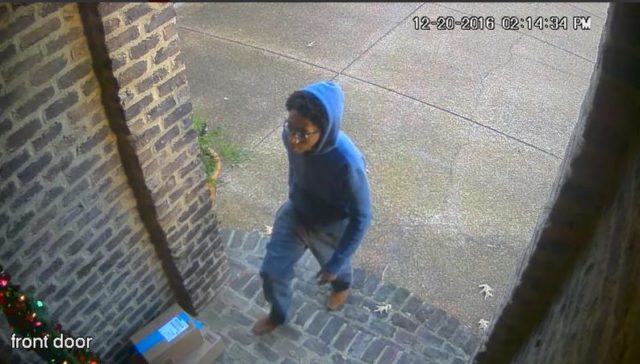 At least seven Lakeland neighborhoods have been targets of "porch pirates" this week, according to reports on social media and Earl Farrell, public information office for the Shelby County Sheriff's Office (SCSO).
Video of the person who took two packages from Lakeland resident Casey Condo is posted with this story. The shot is from security cameras at his home.
It is important to file a report with the SCSO to enable authorities to catch the thief or thieves. The number is 379-7625.
According to social media, the neighborhoods impacted this week include Lakeland Estates, Evergreen Hills, Lakeland Heights, Plantation Hills, Creekside Manor, Oakwood and The Grove.
Mr. Farrell said the SCSO only has two filed reports and for both of those cases, packages were recovered in the woods.
"These are not isolated incidents.  They follow the (delivery) trucks.  They are called porch pirates. And they go where the best presents are," he said.
Mr. Farrell added that packages and items are found in wooded areas nearby as the thieves pick and choose what they want.  "If its socks or pills, they might discard those items," he said.
Capt. Oscar Harris, SCSO patrol, said two vehicles have been identified to date: a blue Prius and a brown fan. He added that deputies hope to get fingerprints off recovered packages and boxes. "This is a crime of opportunity and they are more active this year," he said. Capt. Harris said the crimes are not exclusive to Lakeland but are everywhere.
Mr. Condo said two packages containing toys for his son were stolen at 2:14 p.m. Nov. 20 and he filed a report with SCSO last night. "You can see the car pullup to my house, slam on the brakes and then back up," he said.  One person came to Mr. Condo's door, looked inside and then took the packages.  Another person, he said, discarded packages in nearby woods.
After talking to other Lakeland residents, he believes at least 10 houses were targeted.