by Matt Wright
The Owners Box Sports Grill, which will be located off Highway 70 in Lakeland Town Square, hopes to be open this coming April according to the owners.
Philip Cox and Amanda Martelli, the Lakeland residents behind the restaurant and bar concept, said they are in the process of hiring people and will hopefully finish construction in the next two months.
Mr. Cox said he's handling the construction side of the project, while Ms. Martelli will handle the General Manager responsibilities of the business. "Like many other projects, we've had some delays due to construction materials, permits, and supply chain issues. But we think April is a realistic goal for an opening."
He said Ms. Martelli will provide a great experience for guests of the Owners Box due to her background in the sports bar business. "Amanda managed Buffalo Wild Wings for a number of years. She will do very well in that role," he said.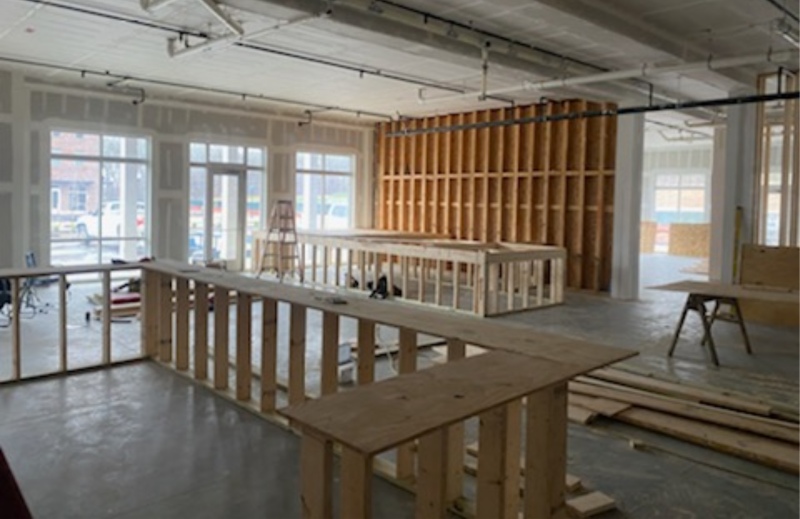 The restaurant and bar has a large footprint, taking up nearly 5,800 square feet on the first floor of the mixed-use development. According to Mr. Cox, one side of the business will be a sit-down dining environment, great for a family type meal. The other side will be the sports bar area which will include 24 beers on tap. "We are a sports bar but we're also a grill. That's why I wanted Grill in the name and not bar. We will have traditional bar food, including smoked wings which everyone will love, but we will also be serving wonderful steaks, pastas, and wraps, including a nice wine list, just as an example." There will also be a private room that can be rented for up to 25 people, great for family events or corporate meetings, according to the owners.
Mr. Cox said the décor will be unique and more industrial-looking, as opposed to a traditional sports bar. "We want this to look more like an upscale restaurant, not just another sports bar," he said.
The restaurant and bar area will also have plenty of entertainment for the more than 300 people it can seat. "We will have 25 single TVs throughout the dining room and bar areas. We will also have 4 video walls where we can convert the entire wall into one large screen. That's great for large games such as the Super Bowl," Mr. Cox said.
The Owners Box is expected to play a pivotal role in making Lakeland Town Square a retail success. According to Carson Claybrook, who's leasing the retail areas for Lakeland Town Square, the Owners Box is a great fit for the type of retail they already have committed. That includes businesses like a coffee shop and another restaurant. "Interest in the development continues to be strong, with only two remaining bays available in Phase one," said Mr. Claybrook.