… Now you don't.
The annex building at the old Factory Outlet Mall in Lakeland has been demolished.
Within a three-week window, the outbuilding was crushed and recyclable parts saved for future use.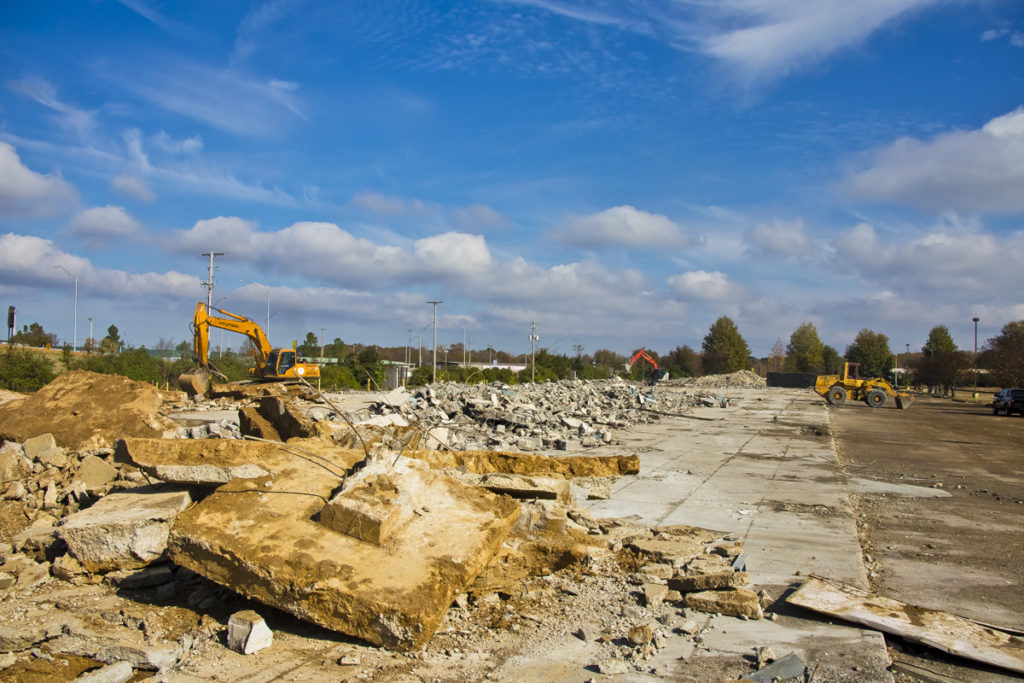 The demo was announced in a special ceremony Oct. 25 and was scheduled to take a month to complete but the process only took three weeks. The main mail building is expected to take two months to demolish.
The site on the southeast corner of I-40 and Canada Road is to be the location for The Lake District, a walkable community that will feature various high-end districts including big box retail, a Main Street for shopping, dining and community events, a residential neighborhood, senior living and a hotel district with two hotels
Yehuda Netanel of Gilad Development is the developer of the property and the architect is Looney, Ricks, Kiss of Memphis.  Breaking ground is estimated to begin in 2019, according to the project website.
The project promises five districts built around a 10-acre lake:
Big Box Retail District featuring a variety of popular brands. Also on site will be a locally focused 70,000 square-foot grocery store.
Main Street District will feature multiple lakefront restaurants with alfresco dining for stunning lake views and a 1,194 seat theatre. All are welcome to enjoy the leisure activities offered on the lake as well, such as paddle boating.
Hotel District will feature two modern hotels: one that will be visible from the highway, and one with lake views.
Residential District will feature a variety of structures ranging from assisted senior living to Downtown-style lofts and 360 single family homes.
Office and Outparcel District, features 14.5 acres of space with 15 pad sites.
For additional information, contact Maggie Gallagher at maggie@gilad-inc.com or 901-229-9690.
https://www.thelakedistrict.us/ Website for the project.