For better or for worse, one of the most overlooked neighborhood developments this past year has been Heathfield at Scotts Creek. That neighborhood will be developed off Old Brownsville Road, between Lakeland Meadows Neighborhood (also new) and Lakeland Preparatory School running along Scott's Creek. The future Seed Tick Road extension will be built between Heathfield and Lakeland Meadows. Now that's a lot to visualize but the map below should help.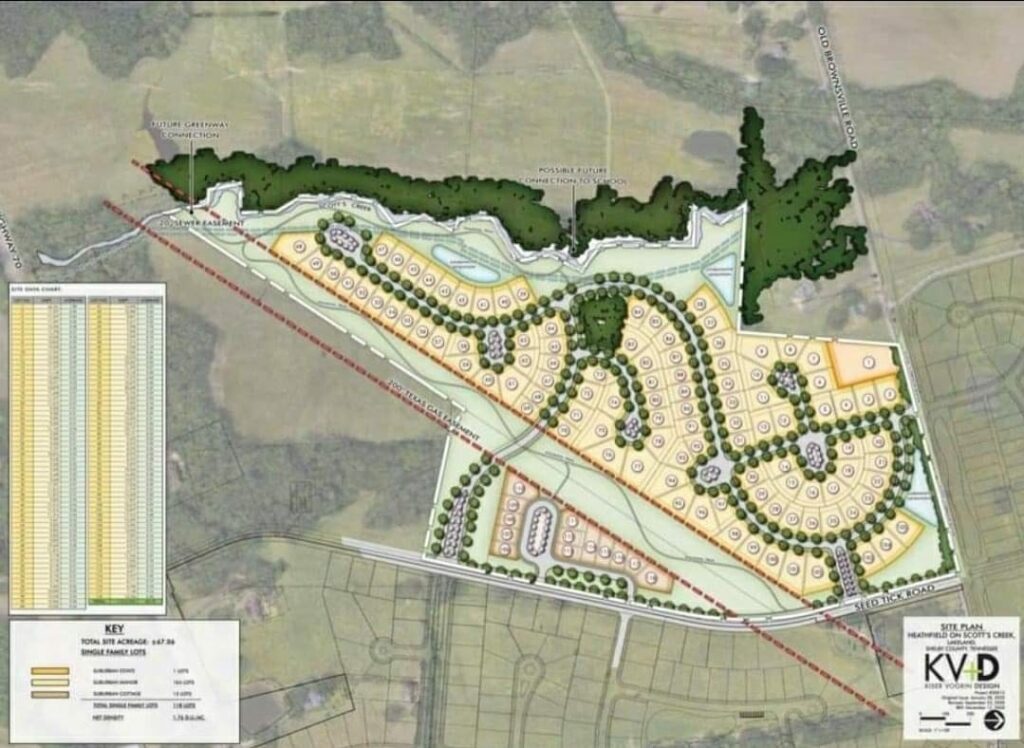 In the July of 2021 Board of Commissioners (BOC) meeting, the preliminary development plan for the 80-acre Heathfield on Scott's Creek residential project was approved. An outline plan for the 118-lot project was also approved by the board in March 2021. The proposal features twenty-four suburban estate lots larger than 17,500 square feet, eighty-one suburban manor lots larger than 10,000 square feet and thirteen suburban cottage lots larger than 5,500 square feet. The approval came with conditions, including making sure the Lakeland Design Review Commission could review the placement and landscaping around the neighborhood's cluster mailboxes.
Perhaps the strength in this development is not the layout of the lots but the variety of builders. Builders that could potentially include Albertine, Mclemore, Halford Companies and Mack Andrews Homes. This would make three different residential developments slated for parcels north of Highway 70 (Heathfield, Evergreen, and Lakeland Meadows). The road infrastructure has been the greatest concern for residents that have spoken out at meetings. Officials have said Seed Tick Road will be a necessary connection from Old Brownsville to Highway 70 before all developments are complete.