Lakeland Currents reached out to Lakeland Vice Mayor Wesley Wright for insight into MLGW and if Lakeland can expect more outages in the future.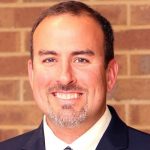 by Vice Mayor Wesley Wright
This isn't our first rodeo. It seems kind of like déjà vu. We know the last 20 years Dixie Alley has experienced more intense tornadoes than Tornado Alley (Kansas, Oklahoma etc). The shift in intense storms has moved east to Tennessee, Mississippi, and Alabama. This is not to suggest that what happened Sunday evening was tornadic, but the propensity of the Mid-South to experience extreme weather throughout the year has increased.
Sunday's super cell thunderstorm brought winds upward of 80 miles per hour and knocked out power for more than 122,000 customers — about a quarter of MLGW's customer base — making it the sixth worst storm in the utility's history, behind the likes of Hurricane Elvis and the Winter Storm of 1994. We had a recent ice storm that would be in that mix well.
According to Doug McGowen, who is at the helm of MLGW, tree-trimming was most impactful thing he could do to minimize outages. Over a three-year cycle, MLGW's goal is to clear 4,200 miles of vegetation, or about 1,400 miles every year, to stay on track. As of a June 7, almost halfway through the year, MLGW was about 5% of the way toward its annual goal. Now we know their practice of pruning, or their third-party vendors, is to unevenly distribute the weight of trees, and to the dismay of tree lovers make for less than attractive canopies. Their goal is to minimize the chance of branches falling onto lines.
Alternatives have been presented, such as moving more lines underground. I am a proponent of that idea. In an area with increasing risk of severe weather, aging canopies, and dilapidated infrastructure made up of wooden poles that break like toothpicks the idea of moving more lines underground, particularly in areas with conservation, should be aggressively pursued. MLGW says the cost is high, but a major part of that equation of cost is MLGW. After this week, getting tree pruning back on track will not be enough.