Work began today on the Canada Road driveway entrance to McDonald's at 9940 U.S. Highway 64.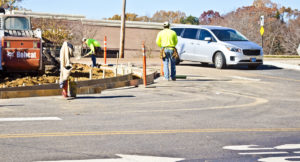 The driveway has been blocked since the ribbon-cutting of the new eatery Nov. 6.
Emily Harrell, PE CPESC, city engineer, said the work should be completed by the end of the week.
The grand opening for McDonald's is from 11 a.m. to 1 p.m. Dec. 2.
The original Lakeland McDonald's, 3565 Canada Road, was closed in September in anticipation of the new location.  The old location is part of a Mobile gas station which is being renovated. A new eatery has not been announced to fill the space, although Dairy Queen has been mentioned.
… Photos by Jim Willis, Lakeland Currents.