by Wesley Wright
If you haven't seen the Auditorium during a performance, then you are in for a multisensory experience. The Band and Orchestra have given us a glimpse of the potential, now it is an opportunity to see many talents work together as one. LPS Theatre Company and Fanboy Entertainment Present "NIGHT OF UNDEAD THEATRE" Featuring 10 Ways to Survive the Zombie Apocalypse Written by Don Zolidis and All I Really Need to Know I Learned From Being a Zombie Written by Jason Pizzarello.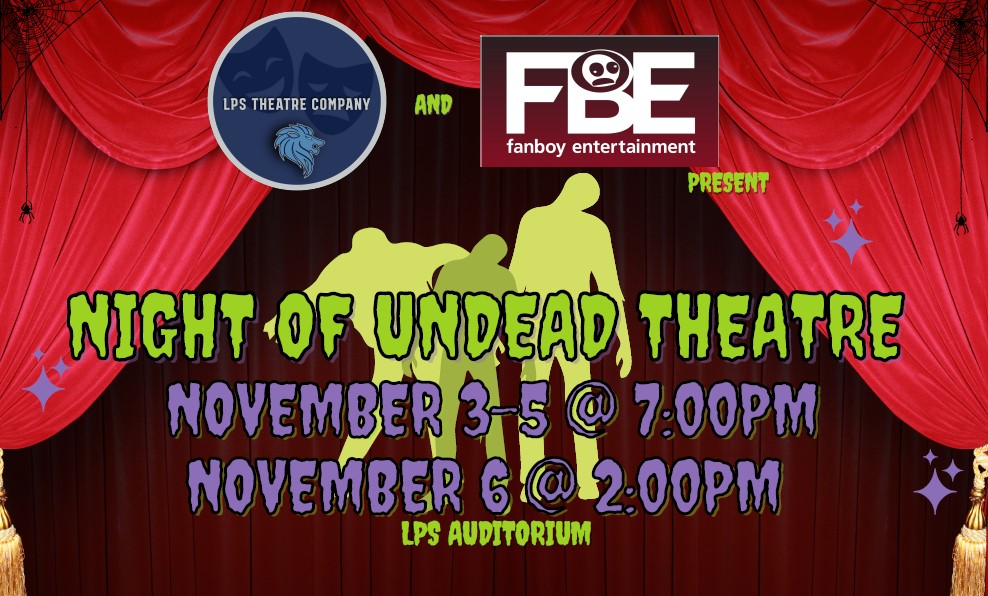 NIGHT OF THE UNDEAD THEATRE is a combination of two one-acts that take you through a zombie apocalypse. "10 Ways to Survive a Zombie Apocalypse" takes a comedic approach on explaining the 10 ways to make it through when zombies attack. "All I Know I Learned from Being a Zombie" discusses life (or after-life) lessons to learn from becoming a zombie. Be prepared to laugh, be entertained, and maybe even leave with a few tips from zombies. Tickets are on sale now via lpstheatrecompany.org/tickets.  but you can use a credit card (only) at the door!
The Lakeland Theatre Company is comprised of 50 cast members (grades 6-9) and 35 crew members (grades 5-9). This is Mr. White and Mrs. Garland 's first collaboration together. LPS Theatre Co. would like to thank their sponsors, the LSS school administration, the school Board and supporters who have led to them to this point. It is a multifaceted endeavor that takes tremendous effort, and they want you to be a part of history. Performances are November 3rd – 5th and 7pm and November 6th at 2pm. See you there!