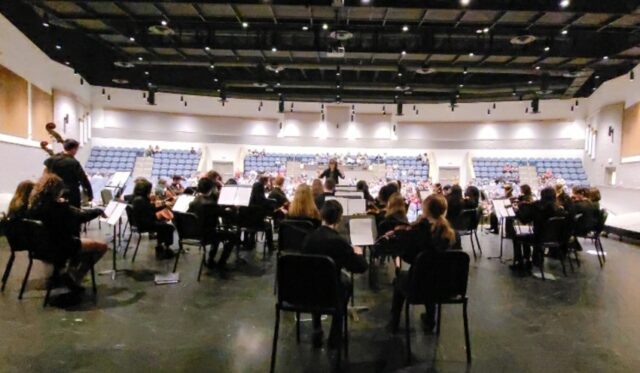 The LPS Orchestra, along with their conductor Mrs. Paula Turner, invites you to come "Home for the Holidays" on Thursday evening, December 15, in the LPS Auditorium.  Complimentary cocoa awaits you in the lobby at 6:15, where you can mingle with friends while shopping for the perfect holiday gifts among the items offered in the silent auction.
The concert begins at 7:00 p.m., and the Beginning Orchestra will put you in a festive mood with their tunes, including a unique mash-up of Jingle Bells and Ode to Joy, and a pair of short Holiday Vignettes that sound like they jumped right out of a Hallmark movie.
The Concert & Chamber Orchestras will combine for a nostalgic tour of holiday classics, including Dance of the Tumblers and the Evening Prayer from the opera Hansel & Gretel.  The Ninth-Grade musicians will perform a beautiful theme from Vivaldi's Winter from The Four Seasons, and the program will close with an unexpected and surprising version of Carol of the Bells. All students will combine for a grand finale which you won't want to miss!
Admission is free, with a $5.00 suggested donation per person to support the growth of the LPS Orchestra Program.