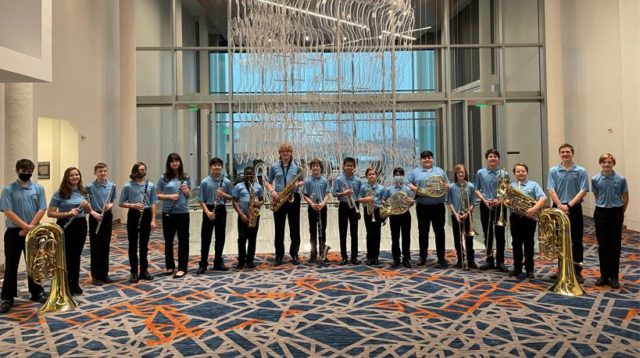 By Brent Hopper
Downtown Memphis was a lively scene last weekend as nearly 1,000 band and orchestra students and their directors from all over West Tennessee converged on the Cannon Center for the Performing Arts and the Renasant Convention Center for the 2022 All-West Convention, sponsored by WTSBOA (West Tennessee School Band and Orchestra Association).
The convention, currently the longest running annual gathering in Memphis, included middle school and high school honor bands and orchestras, teachers' meetings and professional development, and an exhibit hall featuring local performing ensembles, colleges and universities, and music stores.
Students rehearsed under the direction of guest conductors Thursday (2.10.22) and Friday (2.12.22) and performed on the stage at the Memphis Cannon Center Friday night and Saturday morning.  Nineteen band and orchestra students from LPS took part in the festivities, and Directors Brent Hopper and Paula Turner served the association by chairing an ensemble and the audition event.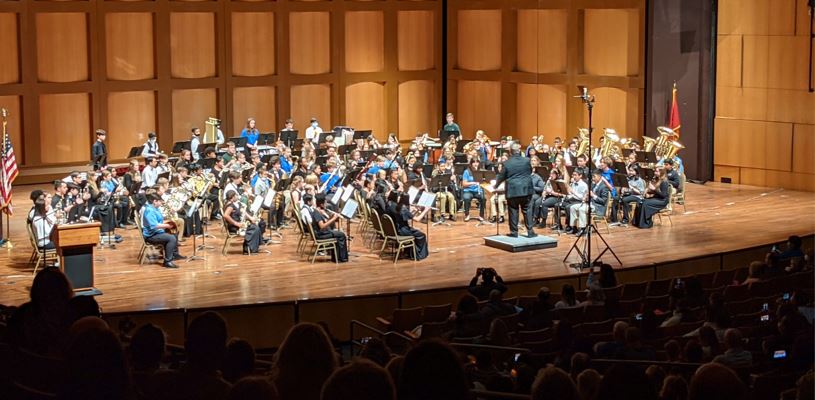 Guest conductors for the middle school bands were Kara Boyd Connell (former band director at Lone Oak Middle School) and John Easley (long time band director at Union City High School). Both middle school bands were part of world premiere performances.  Guest conductor for the middle school orchestra was Laura Wood, noted orchestra director at Lanier High School in Sugar Hill, Georgia.
The All-West Convention happens annually in February, and students audition for seats in the honors ensembles earlier in the school year.   LPS is proud of the efforts of all students who spend the extra practice time necessary to prepare the audition material and commends the students who performed at All-West for their achievement.
The convention showcases hard work, dedication, personal expression and fellowship; all of these are benefits of maintaining a strong music education program in the local schools.
The LPS Orchestra was proudly represented by violist Santiago Gonzalez
Those selected for the Blue Band (top band for All West):
Hannah Fensterer – 6th Chair Clarinet
Kensonminh Vu – 28th Chair Clarinet
Brady Heinemeier – 9th Chair Trumpet
Hunter Owen – 10th Chair Horn
Raith Moss – 5th Chair Euphonium
Jackson Bush – 4th Chair Tuba
Those selected for Red Band (second band):
Rachel Forbes – 1st Chair Oboe
Joshua Mans – 4th Chair Flute
Andy Jagger – 16th Chair Clarinet
Lex Stone – 1st Chair Bass Clarinet
Haniel Shoga – 2nd Chair Alto Saxophone
Kash Hardin – 3rd Chair Tenor Saxophone
John Ma – 8th Chair Trumpet
Haadi Ranjha – 8th Chair Horn
Nathan Harrison – 4th Chair Trombone
Ashton Bruce – 6th Chair Trombone
Henry Elkins – 7th Chair Tuba
Adam Atkinson – 1st Chair Red Band