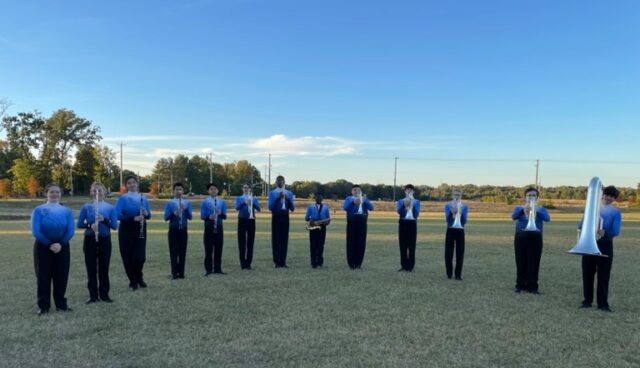 The first official concert in the new LPS Auditorium will feature the Middle School Beginning Band, the 7th Grade Band, the 8th/9th Grade Band and Percussion Ensemble. The Showcase is this Thursday, October 20th at 7:00.  The Lakeland Preparatory School Band is once again off to a great start under the direction of Brent Hopper (middle school band director) and Micaiah Radcliffe (high school band director).
The middle school band has been working hard, making great sounds for their age. The beginners began playing during the third week of school and are already playing with beautiful characteristic tones, articulating, and reading music at a high level. The 7th and 8th grade bands are also striving for excellence each day in class, constantly pushing the boundary of what middle school bands can achieve. The 7th, 8th, and 9th bands, roughly 90 total students, have combined twice in the stands for freshmen football game.
Thursday evening's showcase pieces include: Selections from Beginner Band Tunes by Selfridge, Selections from Time for Band by Ryan, A percussion ensemble piece, Albany Fanfare by Owens, Portrait of a Clown by Ticheli, Appalachian Morning by Sheldon and Sparks! By Balmages. All are welcome and encouraged to attend. There is a $5 suggested donation at the door to help fund the band program.
The 9th grade addition to Lakeland Prep made it possible to begin a marching band program. The marching band, comprised of 8th and 9th graders, has competed alongside schools featuring freshmen through seniors. The LPS Marching Band surprised audiences, receiving 2nd and 3rd place class rankings at each competition this season. After competition, several judges commented that they were the "hardest working group of students we have seen all day. This is the band to watch out for in the future." With the addition of the marching band comes the addition of the color guard. Under Rebecca Hanna's (ELA teacher and color guard instructor for LPS) leadership, the color guard has also thrived.
Mr. Hopper said, "None of our success would be possible without the support of our administration, school board, supportive parents, and hardworking students. I am very proud to call LPS my work home and hope to see the band continue to thrive. The future is bright for the LPS Band!"