Twelve years ago, a class of children began their journey at Lakeland Elementary School.  Some began in Kindergarten, others in first, second, or subsequent grades.  Wednesday, they assembled once again to walk the halls of LES to end where it all began.
The tradition began in 2019 when Kindergarten teacher Mrs. Terri Hoffman proposed the idea of a Senior Walk to Principal Joretha Lockhart.  Mrs. Hoffman had a senior graduating that year and she had seen a similar event on Facebook at another school out of state.  The answer was a resounding YES!  Since so many Lakeland kids had gone separate ways over the years due to the lack of a complete K-12 school system, this seemed like an ideal way to reunite old friends and classmates.
This year, the class of 2022 had around 50 students participate.  They came in cap and gown, representing area schools such as Arlington High School, Briarcrest Christian School, Evangelical Christian School, First Assembly Christian School, and St. Benedict, to take a final stroll the halls of LES.
The PTA, along with a committee of teachers, went above and beyond, providing photo stations and Chick-Fil-A biscuits and cookies for the seniors to enjoy.
Mrs. Hoffman told Lakeland Currents, "For me, this year was special because my daughter, Mia graduated.  Graduation night was special, but having my daughter walk the halls of LES with friends that she grew up with was so meaningful and much more emotional than graduation night."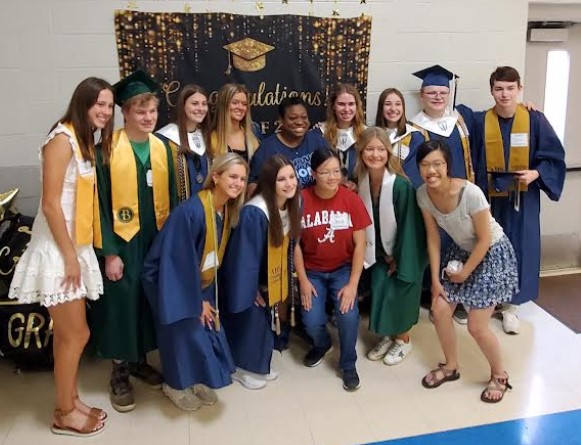 Senior Carter Hale (Briarcrest) said, "I enjoyed going back to LES and seeing Ms. Louis.  I loved seeing a lot of my old friends."
Jenny Cowell, mom of Zoe (class of '22) said, "Zoe was so excited to get to be a part of this LES tradition, and we were fortunate that the doors and halls were open this year! I couldn't tell which set of "kids" were more excited-the graduates or the elementary students?! Not only was it special to see the smiling faces of the kiddos lining the walls giving high fives, but there was nothing like seeing these adult students spotting their favorite teacher from kindergarten or their beloved librarian or wrapping their arms around Mrs. Lockhart for one last hug."
Zoe shared a familiar sentiment that most present had, "Of all the parties I went to this week, celebrating at LES today was the highlight of then all! I will never forget those days, those classrooms, that cafeteria, sitting on the stage to eat. I was so lucky to get to be a part of this community. We are truly blessed!"
The seniors were able to walk down the halls to cheers from current LES K-4 students, take pictures and talk with old teachers, and visit with each other during their visit.  Parents were encouraged to attend and were able to visit as well.  Congratulations to the Class of 2022…Once a Lion, Always a Lion!