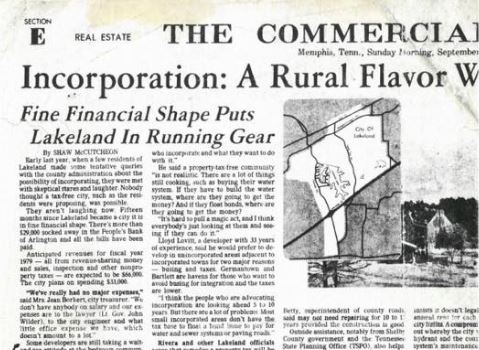 The thought of doing a history piece on property tax may seem quite odd but it is a huge piece of Lakeland's history.
As we approach our 40th anniversary in 2017 we look back to 1977 when a small group of citizens decided to incorporate an area of the County known as "Lake Land". The thought that a group of citizens would come together and create a new city without the use of city property taxes seems pretty farfetched.
There were over 600 people living in the designated area when they decided to become incorporated and were met with skeptical stares and laughter by the County administration when presenting their idea. It was hard to conceive that a city could be tax-free and were told that a tax-free community would not work.
In reality there was not much in cost to run Lakeland. All elected officials were volunteers, fire and police services were covered by the County. The area was zoned for the then Shelby County School System with students attending Arlington Schools through the eighth grade and Bolton High School to the north of Lakeland.
The superintendent of the County roads stated the City's roads may not need repairing for 10 or more years. There were no parks or other areas that would require upkeep. The only expenses the City had were fees for legal, engineering, state planning, utilities and office supplies.
Lakeland's population slowly grew without drastic changes throughout the 1980s. According to the census, Lakeland's population went from 612 in 1980 to 1,204 in 1990. Still it was considerably a very small town for the geographic area.
Lakeland continued to reap the tax revenue from the popular outlet mall built in 1979. In 1998 the area west of the City between U.S. Highway 64 and I-40 known as Stonebridge was annexed into Lakeland. This brought in tax revenue from Kroger and other businesses from the shopping center on Highway 64. By then Lakeland was seeing a population explosion of 470 percent with 6,892 residents living in the City by the end of the decade.
Once the new century rolled around, Lakeland had a good tax revenue from several hotels, the outlet mall, Kroger, Fireworks City, multiple gas stations and other miscellaneous businesses. But it was apparent we were out growing our needs we were originally founded on. Our roads were becoming more crowded, Canada Road/I-40 could no longer accommodate the amount of traffic it was receiving. We had many more subdivisions, infrastructures, more roads and new parks and more needs. We were growing out of our baby clothes so to say. In 2007 on the City's 30th anniversary we had over $7 million in reserve funds.
However, there was a storm on the horizon. In 2008 the country was hit by a real estate economic tsunami. The outlet mall struggled as many stores closed their doors one by one until finally the building went vacant. In September 2011 Kroger pullout of its current location in Lakeland and moved across the street into the old Schnucks building taking away $400,000 in annual tax revenue.
The 2010 census showed Lakeland had 12,430 residents almost doubling in size in 10 years. We no longer could rely on business tax revenue to cover our bills. In an unprecedented move, the Lakeland mayor and Board of Commissioners sent a letter to the citizens of Lakeland asking for donations to the Lakeland Supplementary Revenue Program. When this failed to generate fund relief, former Mayor Scott Carmichael and the BOC had no other choice but to implement Lakeland's first property tax in 2012.
For 35 years Lakeland survived without property taxes. But looking back to our first administration in a September 1978 article from the Commercial Appeal, then Mayor Beverle Rivera states about property taxes:
"We are not naïve. We know someday we'll have to have one. Even the people understand that." – Mayor Beverle Rivera (1978)
And in another article in the Press Scimitar dated January 18, 1979 Rivera states, "There won't be property taxes anytime soon because we aren't that developed. When more people move in and start demanding more services, we'll have to have property taxes."
Our first city officials knew they could start a city without property taxes but were also aware that one day Lakeland would outgrow it's infant stage and would need to rely on the city as a whole instead of our business neighbors.
Story by staff reporter: Carl Helton