The City of Lakeland is featured in a Shelby County historical display downtown now through mid-August.
Kim Odom, special events coordinator for the City, was in charge of organizing three glass display cases which feature the past, present and future of the 40-year-old City.
The display is in the lobby of the Vasco A. Smith Jr. County Administrative Building, 160 N. Main St. and available for viewing from 8 a.m. to 4:30 p.m. Monday through Friday.
Helping with the exhibit were Nancy Koch, chairman of the City Parks and Recreation Board, Wendi Haley, City recreation program supervisor and Jim Atkinson, city manager.
There is a by-invitation-only reception June 11 to dedicate the exhibit with Shelby County Mayor Mark Luttrell, County officials as well as Lakeland elected officials, staff and Board members.
Mrs. Odom described the contents of each case.
"The "past" display is centered on history of the Lakeland Amusement Park. It features a handcrafted mini replica of the sky ride. It was made by Lakeland Senior Center (LSC) participant Lee Taylor who lives in Oakland. There's also a carousel, Ferris wheel as well as features from the City Seal (trees, wheat, sail boat and cotton), pictures of the Lakeland International Raceway, and historic facts of the City. It is covered with blue material, cut to size, and placed in the display to mimic ripples of water that represent Garner Lake."
She said the "present" display is features a miniature replica of The LAMP, handcrafted by Mr. Taylor and painted by LSC participant Bobbi Cornett of Lakeland.  Also in the display are pictures from LAMP concerts, ribbon-cuttings, community events, City of Lakeland Parks and Recreation programs, City accolades, Lakeland School System accolades, as well as information on the Lakeland Education Foundation and its mission to education.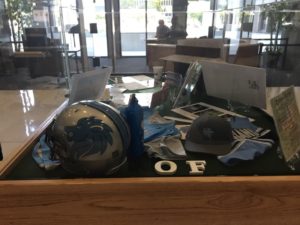 The "future" display is centered around The Lake District (TLD) with a banner, hard hat, prints, cups and pictures.  TLD is a walkable community with lakes, tree-lined parks, housing and hotels to be constructed at I-40 and Canada Road.
The project of rotating historical displays from the County area began in 2015 under Mayor Luttrell, said Jimmy Ogle, Shelby County historian and coordinator of the project.  After the County Building was renovated five years ago, Mayor Luttrell asked Mr. Ogle and the Shelby County Historical Commission to put Shelby County communities on display in the lobby.
… Photos by Kim Odom with the City of Lakeland.