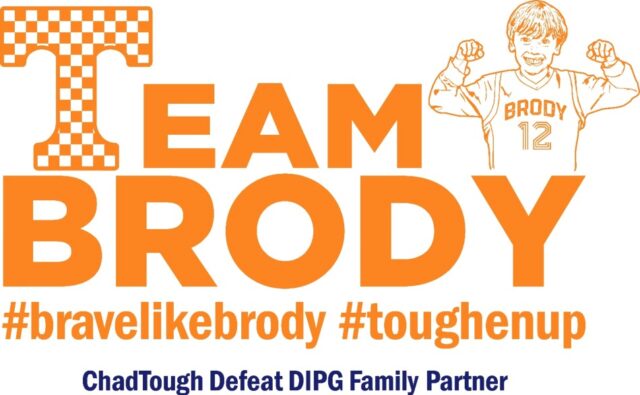 Brody Townsend was born March 10, 2013, and attended Lakeland Elementary School where he completed third grade last year.  For the past 10 years, March 10th has been a day of celebration for the Townsend family, however this year the day will be spent remembering Brody and honoring his memory.  Brody was diagnosed with a brain cancer known as Diffuse Intrinsic Pontine Glioma (DIPG) in December of 2021 and passed away in July of 2022 after an almost 7-month battle.  Brody received treatments both locally at St. Jude Children's Research Hospital and at Seattle Children's Hospital.   DIPG is the deadliest form of childhood cancer and has no proven treatments despite being discovered as far back as the 1920's.  Roughly 300 people are diagnosed each year in the United States, most commonly children between the ages of 7 and 9.  Median survival after the time of diagnosis is 11 months and 90% die within 2 years of diagnosis.
Today, on his birthday, the family is formally establishing the Brave Like Brody Memorial Scholarship Endowment with the University of Tennessee.  This scholarship will be awarded to future college students with preference given to students from Lakeland.  During Brody's treatment last year, fundraising efforts and generosity from friends, family, and community members were truly remarkable.  The family would like all that were involved to know how much this means to them.  "It was truly a blessing and made our terrible journey a bit more manageable to know how much support we had.  If love and support could have beaten DIPG, Brody would no doubt be here with us today."  The family is using some of the remaining money raised in 2022 to establish the endowment with UT.
The family also recently became a Family Partner with the ChadTough Defeat DIPG Foundation.  This foundation is based in Michigan and was started by families with children who have battled DIPG.  For the month of March, the Lakeland Elementary Sunshine Committee has named the ChadTough Defeat DIPG Foundation as its charity of the month in Brody's honor.  All proceeds from this collection are being donated to the ChadTough foundation.  Brody's webpage and more information about the foundation can be found here:
Brody Townsend – ChadTough Defeat DIPG
The family is planning several fundraisers soon and proceeds will benefit both their efforts with the UT scholarship and the ChadTough Defeat DIPG Foundation.  The second annual Brave Like Brody golf tournament will be held on Friday, April 14 at Colonial Country Club.  A limited number of spots remain available for golfers and hole/business sponsorships remain widely available.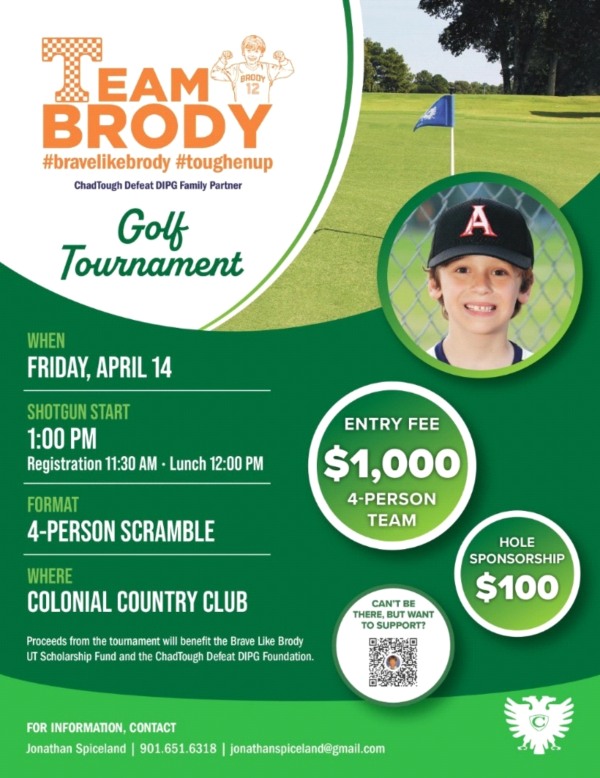 The family will also have a group participate in the ChadTough Super Hero Sprint and 6K on Saturday, April 15.  This is the 8th annual year for the event which was originally held locally in Maryland.  The event has grown every year and is now held virtually at many sites across the country.  Options for participation include a virtual run at the time/location of your choice or there will also be a group run/walk locally in Lakeland on Saturday, April 15.  Time and location will be announced soon on the Brave Like Brody Facebook page
Brave Like Brody Facebook Page (public): Brave Like Brody | Facebook
Info on 6K: Superhero Sprint & 6K – ChadTough Defeat DIPG
Brody's bio on the Brave Like Brody Memorial Scholarship will read as follows:
Brody Townsend
3/10/2013 – 7/3/2022
At the age of 8, a seemingly healthy Brody ran a 5K on Thanksgiving Day.  His time of 25 minutes was faster than his older sister and mother and in typical Brody fashion, he made sure to joke with them to pick up the pace a bit for the next race. Only a few weeks later he was diagnosed with a disease we had never heard of…DIPG.  On New Year's Eve he was in a wheelchair and never walked without assistance again.  Brody passed away on July 3rd, 2022 after an almost 7 month battle.  DIPG is Diffuse Intrinsic Pontine Glioma and is the deadliest form of childhood cancer.  It affects roughly 300 people per year in the United States, most commonly affecting children between the ages of 7 and 9.  There are presently no proven treatments despite first being discovered as far back as the 1920's.
Brody always kept a positive attitude, even when those of us around him were struggling. If he saw a family member crying, he would quickly tell us to "Toughen Up". This became our family motto during Brody's battle and several sports teams at Lakeland schools have adopted "Toughen Up" as their team motto.
The treatments patients undergo when battling DIPG can be brutal.  Brody was very brave and sometimes talked to younger kids in the waiting rooms to try to comfort their fears before an upcoming treatment.  In 6.5 months, Brody underwent 30 un-sedated radiation treatments, 5 surgeries, 3 intracranial infusions, and countless needle pokes.  Brody rarely asked questions about his treatments and like all kids with DIPG, he simply wanted to get better.  He would do anything his doctors asked him to do and truly was "Brave Like Brody".
Pre-diagnosis Brody had yet to find a sport he didn't want to play. Brody played baseball, soccer, basketball, and flag football. He also ran cross country and was a great swimmer, earning a Triple Winner at the city wide All Star Meet in his last swim season. Brody was an avid athlete but also worked hard in the classroom. He LOVED his teachers and classmates and even during treatment, he kept up with his schoolwork and spent every minute he could in his classroom. After leaving a radiation treatment, he would often request to check in late to school, even if only for an hour or two. He was a math whiz and loved showing off his multiplication skills.
Brody loved the University of Tennessee and Volunteers athletics.  He was able to attend several Big Orange football games and was able to see the Volunteer baseball team play in the SEC tournament in Birmingham.  Just before he was diagnosed with DIPG, Brody was able to pitch in his first baseball game and wondered if he would ever be good enough to pitch for the Vols.  While Brody never got the chance to live out his dream of attending the University of Tennessee, the Brave Like Brody scholarship will assist other students in their effort to live out their dreams.  Recipients of this scholarship will no doubt face challenges along their journey, but they will be expected to take Brody's advice and "Toughen Up" and be "Brave Like Brody".