Last week, the Lakeland Education Foundation (LEF) awarded several Lakeland School System teachers $20,000 in grants. Funds to support the foundation were generated primarily through Brick Sales, a reoccurring fundraiser that began earlier this year.
This is the ninth year that LEF has been in existence and the eighth year that grants have been issued to teachers who applied for them. 2021 was the very FIRST year that not every grant could be fulfilled due to the volume and total amount requested. To better meet the requests of the teachers, LEF has now developed a "wish list" opportunity to fundraise specifically for the grants that LEF was unable to fulfill. Watch LEF social media to learn more about how you can help support these wishes.
2022 LEF Grant Recipients:
LES
Making Math Meaningful with Manipulatives – Kimberly Munafo
STEAM Program (MAPS Class) – Karyne Cross
LPS (5-8)
Digging Deep into Learning with Deck Toys – Genny Kilpatrick
G-ood B-assists D-eserve F-unding A-lways! – Paula Turner
Junior Solar Sprint Competition & Lions Flying To New Heights! – Nick Sweeney
LPS (9)
French literacy progam – Maria Scoggins
Initial High School Robotics Investment – Nick Sweeney
Table Saw for the LPS Theatre Company Scene Shop – Jeff White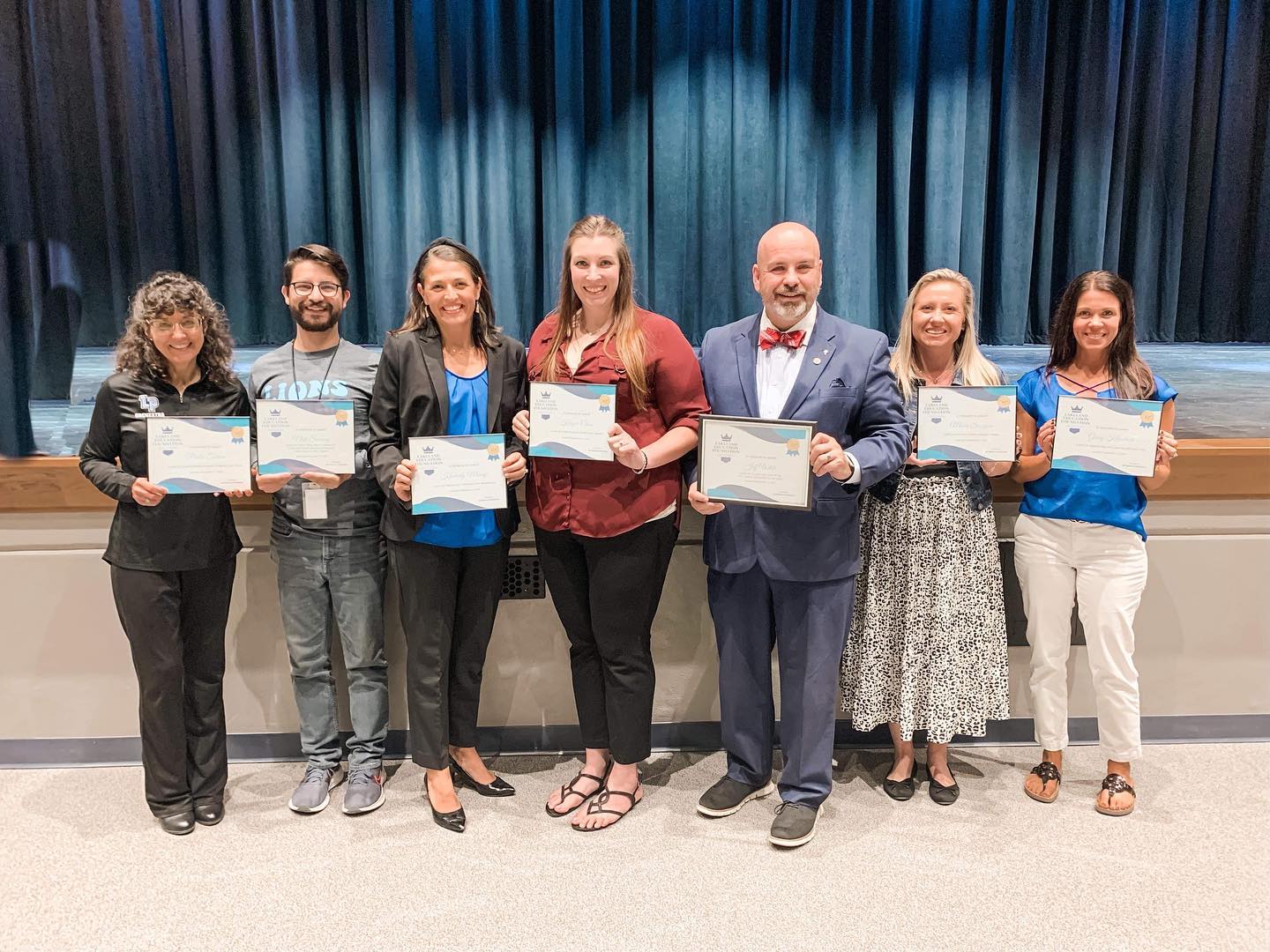 LEF board members view this School Support Organization as the bridge between the community and the school system. The items, training and software that grants provide, serve Lakeland students above and beyond what's budgeted. LEF is a 501(3)c foundation capable of collecting support and funding from businesses and individuals who live in Lakeland or own a business in Lakeland but do not necessarily have students in schools. Amy Foster, LEF President, is open about the challenges Lakeland faces as the district grows. "We need to increase our donor base. We'd like to provide scholarships as we begin to have Lakeland graduates and we need community support to accomplish our goals." Amy has served as LEF president since 2019 and in January will roll into a Past President role as Bill Kiesel steps to the front. Bill has been on the board for over a year, serving as LEF Vice President and also leads the Lions Guard (formerly Watchdog Dads) and a local Cub Scout troop.
The benefits from LEF grants through the years are still visible in many classrooms. LES Principal Joretha Lockhart spoke at the award ceremony, thanking LEF and stating that for many years Lakeland Elementary was the only school in Lakeland, so teachers there were the sole beneficiaries of LEF grants. She said that she is happy to still be included in the distribution and she knows the teachers greatly appreciate that. LES has many flexible seating options, STEM kits, document cameras and math manipulatives that have impacted student learning over time.
Second grade teacher Kim Munafo is one teacher who wrote a 2022 grant "Making Math Meaningful with Manipulatives" for the entire second grade, which was awarded last week.  "We humbly accept this gift and are anxious to receive the materials and start using them to build deeper understanding in our learning. The students and teachers were thrilled to hear that the people and community in Lakeland really care about our schools and the learning that is taking place inside the classrooms.  Teaching students through the use of manipulatives will help them develop a strong foundation in mathematics."
Currently, LEF is introducing a brand-new "Festival of Lights" fundraiser that will encourage community engagement and a healthy dose of competition! To participate, individuals and businesses should sign up here: https://forms.office.com/r/K41LrUgjz9 TODAY with a $25 donation to cover the cost of the sign. Yard signs with a QR code for voting will be delivered to contestants this week. Signs must be displayed five feet from the curb or sidewalk and remain visible for the entirety of the contest. Voting will go from 11/20/22 to 12/24/22 and winners will be announced no later than 12/26/22. Satisfy your inner Clark Griswold, support LEF and sign up today!
2022 LEF Board of Directors:
Amy Foster – President
Bill Kiesel – Vice President (President Elect)
Stave Laster – Treasurer
Ursula Roman – Secretary
Joyce Wright – Board Member
Jackie Livesay – Board Member
Irene Gatere – Board Member
Michelle Filsinger – LES Representative
Rick Stearns – LPS Representative
Jeremy Burnett – School Board Liaison
Follow LEF on Social Media:
https://www.facebook.com/supportlakelandschools
IG: @lakelandeducationfoundation
Visit: www.supportlakelandschools.org
Email: lakelandeducationfoundation@gmail.com
Brick Sales (ongoing): Brick Sales