Lakeland has made headlines this spring over Mayor-announced financial anomalies in both City and School records and a call for a forensic audit.
Mayor Mike Cunningham made this announcement April 11, 2019 at a BOC (Board of Commissioners) meeting, noting he had done extensive research into records for three months and asked for a full forensic audit of all of Lakeland's department and entities including the Lakeland School Board.  He said the anomalies were in the double digits and he was obligated by law to report them at the state level.
Mayor Cunningham was elected in November 2018 and sworn into office Dec. 6, 2018.  Wyatt Bunker, defeated in that same election, served as Mayor from September 2013 to December 2018.
Via FOI (Freedom of Information) forms, Lakeland Currents staff requested the searches made by Mayor Cunningham and other Lakeland citizens for a period of 15 months, starting in January 2018.
The results yielded reports of thousands of documents which had been provided by City and Lakeland School System staff to Mayor Cunningham and citizens via hard copies, electronic copies or in-person visits to City Hall.
Some examples of those requests:
>The Mayor turned in 16 requests between Dec. 8, 2018 and Jan. 21, 2019 listed below including a request for all Parks and Recreation records. During the April 11, 2019 BOC meeting, Commissioner Richard Gonzales Jr. asked Kevin Rooney, director of the Parks and Recreation Department, to provide a breakdown of revenues and expenses of all sports activities in the City. Mr. Rooney said the sports programs are self-sufficient and no tax dollars are used. Commissioner Gonzales said he would just like to know the details.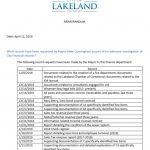 >The 16 emails sent by the Mayor went to Shane Horn, city manager; Dr. Ted Horrell, Lakeland School System superintendent; Kevin Floyd, chairman of the Lakeland School Board; Kyle Wright, finance and human resources director; Kevin Rooney, parks and recreation director; and Emily Harrell, city engineer.
>Among those requests were details on 64 checks written in 2018 to entities from Regions Financial Corporation to the Lakeland School System.
>In a Dec. 27, 2018 email, the Mayor asked Mr. Wright and Mr. Horn for the last three years of sales tax revenue by month and a report since 2013 in Lakeland of the revenue from the motel/hotel tax. "I realize I am asking more work from you, please bear with me as I am trying to get an overview of Lakeland finances," said the Mayor in his email.  "I am looking particularly at situations in Lakeland that residents have contacted me about."
>To Mr. Horn Jan. 16, 2019 in an email for a list of all new hires and employees who left Lakeland curing the calendar year 2018, the Mayor added, "Sorry to burden you with these extra requests but there is a method to the madness."
>Lakeland citizens Cary and Lou Melton sent FOI requests to the City, indicating they wanted hard or electronic copies of documents or they would bring at least four Lakeland citizens to inspect certain records. On Feb. 6, 2019 to the Lakeland School System, Mrs. Melton asked for "a party of minimum of 4 Lakeland citizens wish to inspect the LSS 2018 financial records which includes check register, invoices, cash receipts. We wish to begin with the check register ASAP. We wish to review 2017 financial records after we complete 2018. We also wish to review separate accounts for construction of LMPS."  Jessica Millspaugh, human resources director for LSS, responded to the Meltons by saying, "There is a total of seven accounts payable boxes for 2017-2018 and 2016-2017 (estimated 14,000 pages) and as requested, 2017-2018 will be the first boxes provided for inspection.  The 2016-2017 check register and cash receipt register will be available for inspection at the completion of the inspection of 2017-2018 accounts payable, as requested."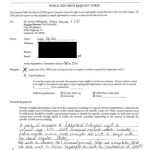 >As an aside, in the April 1, 2019 Lakeland School Board meeting, Dr. Horrell noted that Lakeland Commissioner Richard Gonzales Jr. was in the audience. Dr. Horrell said the Commissioner would be relieved to know that for the sixth year, there would be no requests for operational funds from the City. He said he is very proud of that fact and said it was predicted that when the middle school was opened (August 2017), the School Board would ask for more operational funds, which did not happen.
>In March 2019, Mrs. Millspaugh again responded to a request from the Meltons for inspection of records. They wanted "inspection (2016-2017) Chris Woods Construction Company, school attorney invoices, A2H, Jolly Roofing, Southern Educational Strategies, Roy May HVAC, Dynamic Electric, Mid South Septic, Bill May check 155B $2450, Ronald Vaughn Varia, Aces-TN Wendy Ashcroft $5100 check 212B, Educational Networks $3363.50 #353B, Geotechnology ck 110246 $1980, Western Psychological Services #101581 $962.50, Rhodes Lauck & Assoc. #110020 $1796.65."
>At a March 2018 BOC meeting, Mrs. Melton spoke to commissioners about a resolution to adopt a revised public records policy. She and other residents had been reviewing thousands of public records at City Hall. "We decided to become pro-active in reviewing Lakeland expenditures," said Mrs. Melton. She noted that they didn't realize the volume of material they were requesting.  They ultimately went to reviews of check register copies which she said streamlined the process.  During the research, she said they found a duplicate invoice which was addressed by the City for reimbursement.  Mrs. Melton said they also found areas where the City saved money in several areas including health care and internet costs.