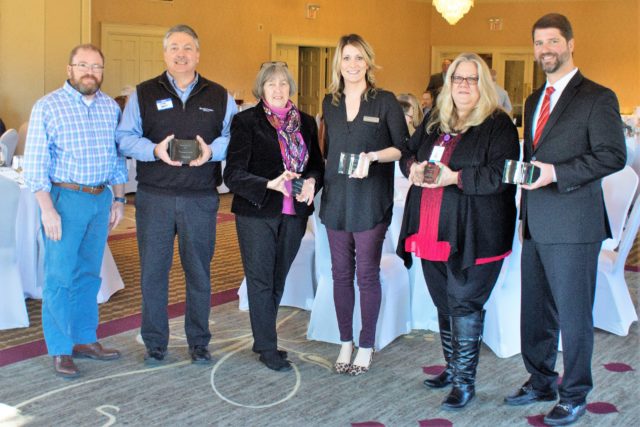 Five awards were presented at the annual Membership Awards Luncheon today (1.24.18) by the Lakeland Chamber of Commerce at Colonial Country Club in Cordova.
The honorees are:
Person of the Year – Kim Odom, Senior Center manager and special events coordinator for Lakeland
Outstanding Community Partner  – The Refuge Church at 9718 Huff N Puff Rd in Lakeland
Outstanding Business Partner  – Pop-A-Lock, Lakeland business
Outstanding Business Partner – Lakeland Currents, the volunteer news website for the Lakeland community.
Business of the Year – Renaissance Group at 9700 Village Circle Drive in Lakeland
Mrs. Odom was thanked for coordinating events for the City and being a great partner to the Chamber.  "Kim stepped up to the plate several times throughout the year to help when needed," said Wil Ashworth, Chamber president.
The Refuge Church was recognized for its support of the Chamber through various contributions including the new resident welcome bags and home-cooked meals delivered to businesses open on Thanksgiving.  Pastor Scott Benjamin was unable to attend, said Mr. Ashworth, because he was helping someone with a flat tire.
Mr. Ashworth said Pop-A-Lock supports Chamber events and both Lakeland schools in many ways.  The business owners are out of the country and were not present at the luncheon.
The volunteer staff of Lakeland Currents was acknowledged for its job covering Chamber events, business happenings as well as other news pertinent to the City.  "Great resource and asset for residents and the business community," said Mr. Ashworth.
Renaissance Group was selected because of their years of support and attendance.  "Throughout the year they have been supportive of every Chamber initiative through sponsorships and attendance," said Mr. Ashworth.  "They are also involved at the middle school (LMPS) and other projects throughout the City.  We are proud to have them in Lakeland."
A check for $7,000 was presented to representatives of both Lakeland schools, representing proceeds from the annual Golf Tournament last fall. Accepting for LMPS was Cindy Davis and for LES (Lakeland Elementary School) was Monica Pitts.
Upcoming Chamber Events
Feb. 28 – Monthly luncheon at Stonebridge Golf Club with speaker Dale Lane, Shelby County Office of Preparedness
Mar. 6 – Coffee Connection at The Refuge Church
Mar. 28 – Monthly luncheon at Stonebridge Golf Club with Missy Marshall, Keep Tennessee Beautiful
April 27 – Sport Clay Shoot Tournament and Fundraiser at Memphis Sport Shooting Association in Lakeland.  Cost will be $100 and the event is limited to 60 participants.
Announced was a plan to recruit more volunteer ambassadors for the Chamber.  Mr. Ashworth thanked the current ambassadors and said he would like more to come forward to serve.  They would help with meetings and events and have personal interactions with businesses, said Mr. Ashworth.  "As a Chamber, we want to be more proactive in the City."
For information about the ambassador program or just about the Chamber, contact Brittney Buchanan, executive director, at brittney@mylakelandchamber.org
 … Photos by Anna Stonestreet Smith, a Lakeland mom, military wife and owner of Anna Stonestreet Photography, https://www.annastonestreetphotography.com/
 Link to photo album:  https://photos.app.goo.gl/bqcrqou9VVkaZzhy1