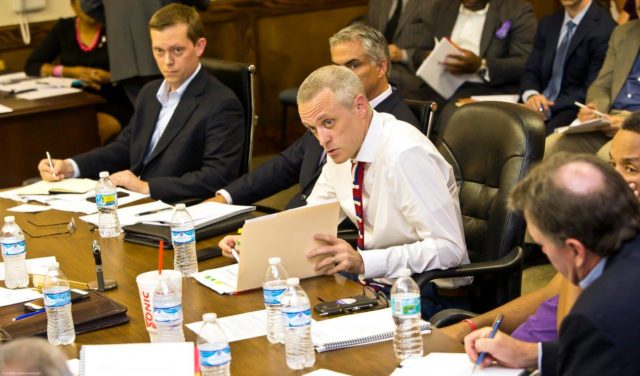 In a historic night for Lakeland, $39 million in TIF (Tax Increment Financing) was unanimously approved for The Lake District by both Boards Oct. 24 and was approved 12-0 by the Shelby County Commission.
TIF money will used for infrastructure allowing retailers and hotels to commit to the project valued at $375 million.  In turn, the project will provide thousands of jobs and millions in revenue.
The District, an urban village to be constructed at the southeast quadrant of I-40 and Canada Road, is one the largest single capital investment projects in Shelby County.  It will encompass about 162 acres including a former outlet mall and an adjacent area that was a planned mixed use area (owned now by Belz Enterprises).
Developer Yehuda Netanel said, "It's up to you to provide this financial tool.  Major retailers and hotels are all waiting for this moment,"
Developer Yehuda Netanel said, "It's up to you to provide this financial tool.  Major retailers and hotels are all waiting for this moment," speaking of the TIF approval.  Maggie Gallagher, business and relationship specialist who works with Mr. Netanel, said, "We need the TIF to go back to people we've been talking to, telling them we can deliver the infrastructure."
The requested TIF funding is about 11 percent of the total private sector investment.   Lake District property taxes will be used to pay back the $39 million loan over a period of 20 years, according to Al Bright, attorney for IDB.  He said the money is for horizontal infrastructure, like streets and improving sewer systems.
Consultant Dexter Muller said the City of Lakeland is not taking on any risk.  He said the money will be covered by revenues coming in.  "There is no obligation by the City, no financial responsibility." He noted the current tax revenue on the property is only $104,000. "After the build out, it should be $11.4 million a year including sales tax," he said.
In describing the economic impact of The Lake District, Mr. Muller said every school in Shelby County will benefit from additional revenue, while 1,200 permanent jobs will be created, 3,100 construction jobs equaling $183 million in income.  Total annual tax impact including property and sales tax will be $3.9 million for Lakeland and $4.2 million for the County, he said.
In discussing a timeline for the project, Jim Atkinson, city manager, said the preliminary development plan has to be approved, then construction and engineering plans and then a development contract with the BOC.  Mr. Muller expects infrastructure construction could begin in April 2017 and take a year.  By mid-2018, buildings could be started and by mid-2019, taxes could start rolling in. Completion date for everything is 2022, a four-year build out. All homes will not be built at once, to keep from flooding the market, Mr. Muller said.
Mr. Netanel said there is a contract on the Belz property and closing could be late spring or early summer 2017.
The walkable community is expected to have big box retail, two hotels, main street retail and boutique shopping, restaurants, a child learning center, offices, assisted living single family residential  and sites for a possible performing arts center and maybe Lakeland City Hall. Mr. Netanel said there will be 100 rentals over retail positioned east of the three lakes.  Two parking structures are planned to allow one-time parking and then walking throughout the community.
Already the project is working with A2H Engineers in Lakeland and Memphis design firm Looney Ricks Kiss.  Plans are to hire locally owned small, minority and women-owned businesses and a local general contractor.
Three residents asked questions at the Oct. 24 meeting about the project: Richard Gonzales Jr. , Jerry Rushing and Tom Hathaway and their questions were answered by various officials in attendance.
Seated alongside the BOC members were IDB members Steve Laster, chair, along with Alan Johnson, Ron Purifoy, Matt Wright and Mo Denbow.
Link to the TIF application: https://www.lakelandtn.gov/DocumentCenter/View/5815