After months of speculation, Lakeland Currents has received the official press release notification announcing funding for the 1st Phase of development for The Lake District. Funding will be provided by Canadian mortgage banking firm, Romspen Investment Corporation. Please see the following release for details:
---
Romspen Investment Corporation Invests in The Lake District
(Lakeland, TN)—Canadian mortgage banking firm, Romspen Investment Corporation (www.romspen.com) has announced the closing of a $60 million construction loan for construction of the first phase of "The Lake District." The Lake District is a to-be-built 165-acre lifestyle center development in Lakeland, just east of Memphis in Shelby County,Tennessee. When complete, The Lake District will become a regional destination with retail,entertainment, multifamily, single-family, residential, office, and hospitality components.
The first phase of project will focus on the construction of retail, including a theater, specialty grocery store, restaurants, and numerous specialty retail shops. The project is the vision of developer, Yehuda Netanel, President of Gilad Development. For numerous years, Mr. Netanel has been working closely with local stakeholders and prospective tenants to create a project which will have long-standing impact to the region. The first phase, consisting of nearly 200,000 square feet of retail, has been substantially pre-leased with tenants including Malco Theaters, Starbucks, and Firehouse Subs.
The Romspen construction loan was arranged by real estate investment banking firm David B. Norton Inc. (www.davidbnorton.com) It is anticipated that the construction will begin immediately with tenants expected to be able to move in before the end of 2020.
"We are pleased to be a strategic part of an important and unique project in the Memphis region," said Blake Cassidy, Managing Partner at Romspen Investment Corporation.
For more information about The Lake District, please visit www.TheLakeDistrict.us.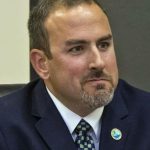 Lakeland Commissioner Wesley Wright said of the announcement," It's onward and upward for The Lake District. With LRK (Looney Ricks Kiss) helping to envision the project and Linkous Construction, we will see vertical very soon."