On his final day as the Lakeland Municipal Judge, Taylor A. Cates ruled on three cases today (10.24.19), two residential issues and the Econo Lodge.
Judge Cates, who became Lakeland's first municipal judge in July 2018, resigned this month to take the position of Chief Prosecutor for Germantown.  As he ended the morning session, he said he is proud of what the City is accomplishing through the court system.  "Things are set to keep moving in the right direction," he said.
The Code Enforcement officer for Lakeland, John Highsmith, is resigning effective tomorrow to take a position at the Naval Base in Millington.  He was hired by Lakeland in December 2015.
Gary Taylor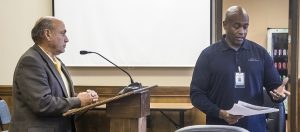 Mr. Taylor, who owns the home at 9581 Oak Point Cove, was summoned back to court over issues with his pool, fence and drainage.  He was ordered to cover his pool and remediate the fence and drainage to everyone's satisfaction.  He has a conditional judgment of $50 a day starting today until the next court date of Nov. 20th if he doesn't comply with the ruling.  The judge said if Mr. Taylor does not comply, he can get his calculator out.
John Carter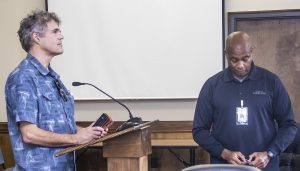 Mr. Carter, 3964 Blue Spruce Cr, was in court for inoperative vehicles in his driveway.  The Judge asked if he was running a side auto repair business from his home.  If so, he said, that is problematic.  Mr. Carter said his son had been trying to run a side business but now a rental facility will be used as a garage. Judge Cates said it sounded like the issue had been isolated.  Mr. Carter was ordered to be in compliance by the next court date of Nov. 20th and at that time, the case would be dismissed.
Econo Lodge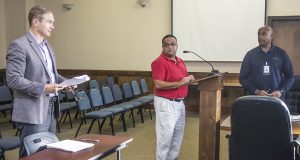 Diptesh Patel was back in court for the property at 9822 Huff N Puff Rd which most recently was cited for lack of a landscape plan.  Forrest Owens, Lakeland city planner, said Mr. Patel came before the Design Review Commission this week requesting a revised landscape plan because the original plan was too costly for the motel.   Mr. Owens said there was a DRC approval but there is still work to do on a compromise.  On a previous issue with lighting in the parking lot, Mr. Patel said he is still working with MLGW.  The Judge said he is pleased there is progress being made.  "But before we          officially turn loose of this, get the plants in the ground by the December court date," ordered the Judge.   Mr. Owens asked if the case could be on the November court docket for a progress report. The Judge agreed and ordered Mr. Patel to return Nov. 20th with progress on MLGW/lights and the landscape plan.
… Photos by Jim Willis, Lakeland Currents