Look who was living at the Old Factory Outlet Mall!
A dummy (pictured below) was found in the ceiling of the Mall as the process began today (12.21.17) to demolish the facility and make way for The Lake District (TLD) which is to be an upscale 160+ acre mixed used community surrounding a 10-acre lake and waterways. The location is on the southeast corner of I-40 and Canada Road in Lakeland.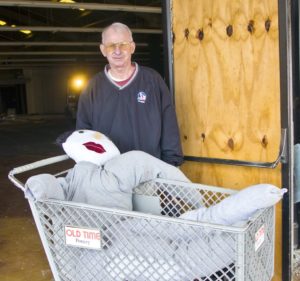 Lakeland Currents Photographer Jim Willis visited the site today to shoot photos inside, the last before the Mall comes crumbling down.  See photo album at the end of the story.
Stephen Baiel, operations manager for the project, told Lakeland Currents the completion letter from MLGW was received yesterday and the permit for the work was received from Shelby County Code Enforcement.  Permission was required from MLGW, he said, for gas and electrical work.
Electrical boxes and copper have been removed from the building to be recycled, as was done in the Annex Building in October and November.  Workers will also separate out the aluminum and steel for recycling.
Actual demo on the building is to start Dec. 27 and with no unforeseen problems, that process should take four to six weeks, said John Morris, foreman with Tri-State Recycling. Thus the project is ahead of the original schedule to have both buildings removed by April 2018, a requirement imposed by the City.
Mr. Baiel said as materials were pulled from inside the mall, workers found the dummy although he doesn't know its source.
TLD is to be a walkable community with parks, water features, retail, restaurants, two hotels, 360 homes, 220 rentals over retail, 15 pad sites and office space and assisted living. It is to contain 279,000 square feet of retail and restaurant space.  In its heyday, the Mall was almost 300,000 square feet with 1,400 parking spaces.
About 80 percent of the concrete from the Annex as well as the Mall site will be used in the asphalt for TLD. Currently the collected concrete is piled on the south site of the facility.
Ground is to be broken for the "urban village" in 2018.
The site is closed to traffic with a guard on site 24/7, said Mr. Baiel, along with surveillance cameras on the property.
Album: https://photos.google.com/share/AF1QipPc2D7J7QuK9zI3Mc3uctOUPEnmsMMJU0zBwzVEa2VbLWlTCNRlH1e82BQgANEgMQ?key=UE1SVTBueUZxX0xhN1Y5d2swSFRCVWpTM0k2eVp3