Community As Family. By Carmer Greger.
How do you personally define community?  And better yet, what word(s) would you specifically use to describe the community/communities to which you belong?
My trusted Google Search immediately provided two definitions:
1. a group of people living in the same place or having a particular characteristic in common
2. a feeling of fellowship with others, as a result of sharing common attitudes, interests and goals.
Lakeland is a very special place and the many residents I've personally interacted with claim to cherish the naturally beautiful landscape that perfectly complements the true kindness, generosity, authenticity, passion for life and genuine goodness of its inhabitants. Enter Lakeland's declaration of 'Quality as a way of life".
'Friends are the Family that you choose' is a wall plaque of which we have all at this point seen numerous times.  I personally have completely adopted and fully embraced the concept, as have many.  There are so many sport and social clubs, memberships, teams and hobby or special interest groups, locally, regionally, nationally and on the global scale, that you're already bound to be a part of some.  On the local level, in Lakeland particularly, I encourage you to branch out just a bit beyond your habitual comfort zone and add to your collection.  You never know what taking that new art class, bird watching clinic or volunteering for the community advisory board, going back to your house of worship or attending a new service with an old friend, or showing up first in line prepared and excited for the next community Clean-Up day will do for you and those around you, that is, until you show up and become even more a part of the community, as the member you were meant to be.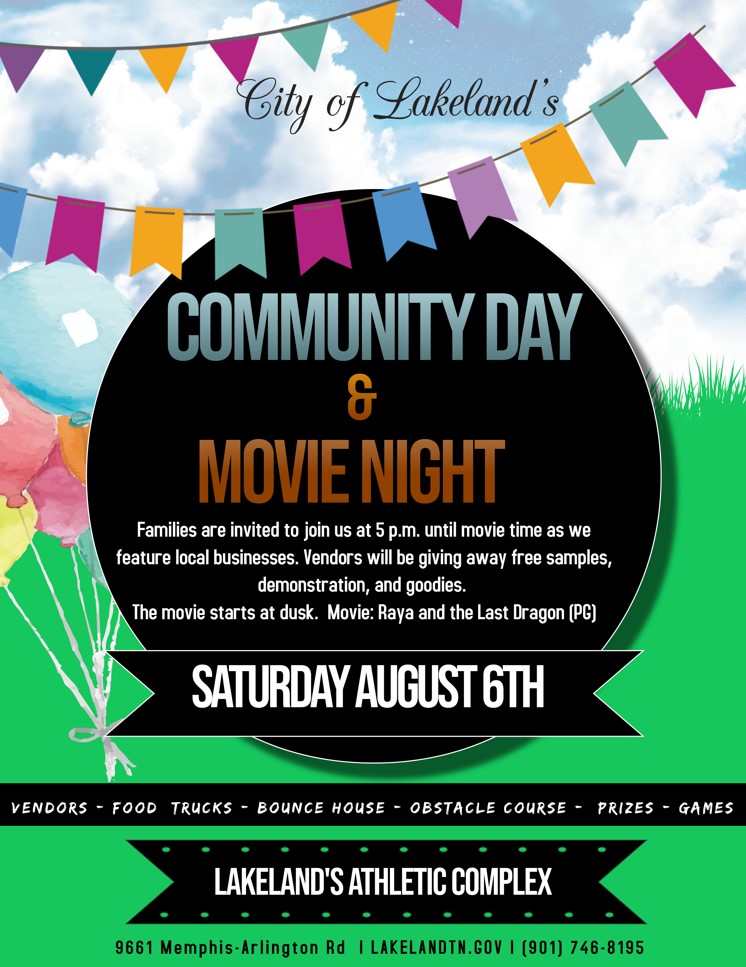 The connections created and celebrated in these like-minded group dynamics is so very special and can truly be the breeding grounds to cultivate lifelong connections, ie 'friends and community as family'.  The magic is in the people, and we all need to remember, honor and celebrate that on the daily. So, this Saturday, gather all of your pals young and old and plan to make some new ones as we celebrate one another, our businesses, our residents, our hopes and our dreams on Community Day this Saturday, August 8, 2022.
Where? Athletic Complex, 9661 Memphis-Arlington Rd (between Canada Rd & Seedtick)
When? 5pm
What? A family friendly event where vendors are excited to be giving free samples, demonstrations and information, complete with a kiddie bounce house and CW concessions food truck!
Then what? Please stay and watch the movie Raya and the Last Dragon (PG). This fun for all begins at dusk!
There will be overflow parking (and transportation provided to the complex with a designated family dropoff area at the complex) at Lakeland Elementary (10050 Seedtick Lane).
For more information, please email KODOM@Lakelandtn.org or call 901.746.8195
We hope you enjoy the festivities and would love to see your pics and hear your feedback!