Wall down, progress begins with supermarket announcement today (3.1.18) for The Lake District (TLD).
In a ceremony celebrating demolition completion this morning, Mayor Wyatt Bunker climbed aboard an excavator and used it to fell the remaining wall of the former Factory Outlet Mall. And Developer Yehuda Netanel with Gilad Development Inc. noted, "The rain stopped just for us," as he viewed clearing skies.
It was the final blow to the Outlet Mall which is to become an upscale 160+acre mixed use community at I-40 and Canada Road in Lakeland. Demolition began at the site in October 2017 and is 60 days ahead of schedule, according to Maggie Gallagher, director of development for Gilad Development Inc.
Vertical should be coming out of the ground in mid-2019, she said.  In the meantime, there's one-half million cubic yards of dirt to move.  "This is a huge site," she said.
During the presentation, details were shared about the first tenant for the property, The Stock Market, an innovative first-of-its-kind, only in Lakeland grocery store.
Jeff Burkhead who owns Burkhead Enterprises in Memphis, will be the manager and operator of The Stock Market, said Ms. Gallagher. The Market will be owned by TLD, said Ms. Gallagher, and the name is trademarked.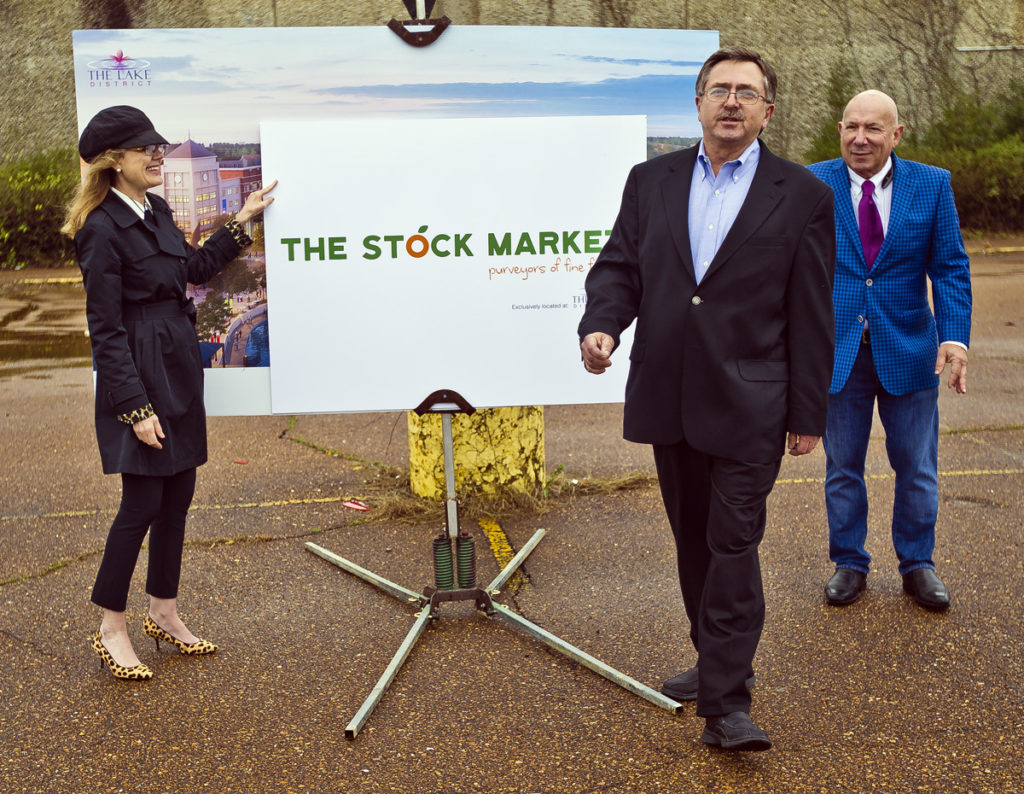 She added that Frank Schmitt with Associated Wholesale Grocers (AWG) in Memphis was instrumental in doing marketing and a study about the viability of a supermarket at TLD.  She said the results were very favorable.
Mr. Burkhead likened the new store to a former grocery chain in Memphis, Seessel's where he was a store director.  "We intend to give service of the '80s and '90s," he said.
"There are five things we will do right," said Mr. Burkhead.
Be clean
Be fresh
Be friendly
Be adequately stocked
Be competitive
He added the grocery will offer great perishables, traditional staples and a variety of upscale products.
Ms. Gallagher referenced the residential aspect of the project.  "We have been overwhelmed with the amount of inquiries for housing," she said.  "Over 150 people want to live at The Lake District. We didn't anticipate that."
While not announcing specific builders for the homes and apartments over retail, she said the project has a web page https://www.thelakedistrict.us/ and Facebook page. "We have a new initiative for you to be able to get information. You will be responded to directly," said Ms. Gallagher
She said this will be a multi-dimensional lifestyle center with many elements including retail and hotel sites.  "It's going to be really spectacular.
Mr. Netanel said, "We are flattered and pleasantly surprised to have so much of an overwhelming response from the community.
In introducing the Mayor to the group, Mr. Netanel said of the wall demo, "We brought the most qualified mayor in the country to make this happen."
Mayor Bunker said the event was a milestone, referencing that many Lakeland citizens doubted The Lake District would ever become a reality.  "So milestones like this one are not only significant to this project and our confidence in this project but significant to our City as a whole."
Mr. Netanel announced today's event was one of a series of fun events planned for the community.  "We will have a fun event March 24," he said hinting that it will be a Saturday and on TLD site.
The former Mall was almost 300,000 square feet with 1,400 parking spaces.
The planned urban village is to have 126,000 square feet of inline retail and restaurant space; 156,000 square feet of main street retail and restaurant space; two hotel sites; 283 single family houses; 381 apartments over retail; 15 pad sites; and 144 age-restricted apartments.
Link to album: https://photos.app.goo.gl/tJOeIWQW7r1RzIOC3
… Photos by Jim Willis, Lakeland Currents.