by Matt Wright
2022 is shaping up to be a memorable year for Lakeland Prep. While the high school opens this coming August, it was the middle school girls that kicked off the year in style.
For the first time in their short history, the Lakeland Prep competitive cheer team advanced to the finals of the national competition and brought home a 4th place trophy. The national event, put on by UCA (Universal Cheerleaders Association) is held annually at the ESPN Wide World of Sports facility which is located next to Disney World in Orlando, Fl. According to parent Susan Kee, whose daughter Sydney is on the team, this was the 4th year for the Lions to receive a bid to the national competition and their first time for in person finals. The Lions competed in the virtual competition last year due to COVID-19.
Coaches and parents stressed the road to the National Cheerleading Championship is long and tough. Tryouts for the Lakeland Prep Cheer team are held in April every spring. The girls have 3 or 4 practices per week and attend summer camps to sharpen their skills. The team also cheers on the sidelines during football season and then turn their eyes to the end of season competitions. "They only get two months off the whole year. They work very hard," said Mrs. Kee.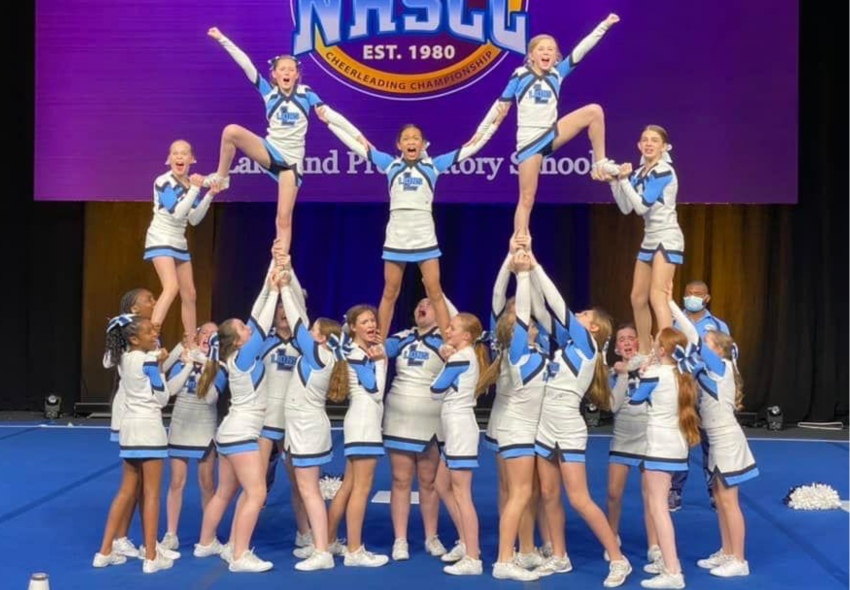 After flying to Orlando from Memphis, the team was treated to a few hours in Disney World on Friday, February 11th, but the girls quickly turned their attention to the first day of competition on Saturday. They were pitted against 14 other schools from around the country in their division (Junior High, Non-Tumbling division), and bringing their best effort was critical. In order to advance to the finals of the competition they would be judged on their routine for things like voice levels, how in sync their motions are and even how loud the spectators cheer and react to their routine. After the routine, all teams and parents gathered in the stands to hear who would be advancing to the finals on Sunday. With nervous anticipation, the Lions were thrilled to hear their names called as one of the 8 teams that would be advancing to the finals on Sunday.
In the finals on Sunday afternoon, the Prep cheer team performed wonderfully, "hitting zero", a cheer team meaning they made no mistakes and had no deductions. After the judging was complete, the Lions came in 4th place in the country, quite an achievement for a program that did not exist 6 years ago. "Placing 4th in the nation is a huge accomplishment and speaks volumes about the growth of the LPS competitive cheer program," said Lakeland Mom Cheryl Slocum, whose daughter Kayden Slocum cheers on the team.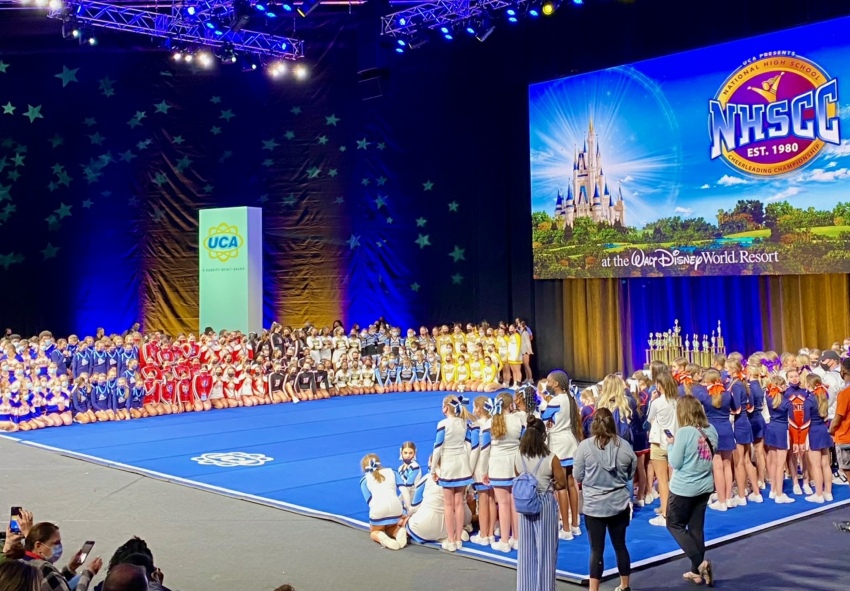 The Lions team is coached by Candace Nurse with Memphis Pride Cheerleading, as well as school sponsors Mollie Williams and Kimber Rahm. "Coach Rahm, Coach Candace, and I are incredibly proud of the cheer team," said Coach Williams. She added, "They have worked unbelievably hard this year to overcome several obstacles. This group of girls were determined to achieve the goals they set for themselves and strived to be great friends and teammates along the way."
While 4th in the country is a great achievement, are the Lions satisfied? "I don't think so," said Susan Kee. "The program has accomplished the goal of getting an invitation to nationals, and now it's accomplished advancing to the finals. The only thing left is to win it!"