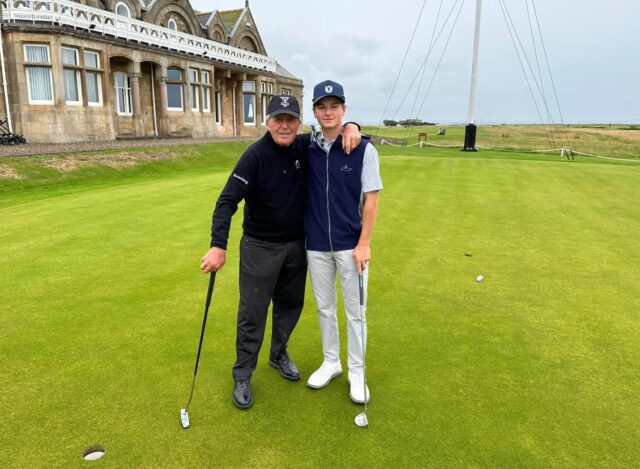 by Matt Wright
"I feel like the luckiest Dad in the world." That's what Lakeland resident Chris Hughes messaged me while sitting in his hotel room last week in Scotland.
Chris, and his son Andrew Hughes, were on a father and son golf trip to play some of the world's most historic golf courses in Scotland, including the birthplace of golf, St. Andrews Golf Club. While playing one of those famous courses, Royal Troon Golf Club, Chris and Andrew had a chance encounter with one of the most famous golf players in the history of the game, Gary Player.
Gary Player, who is 87 years old and known as the "Black Knight" for always wearing black on the golf course is considered one of the ten best players of all time and he just happened to be in the locker room at Royal Troon that day. Flabbergasted that a living legend was in the same locker room, Mr. Hughes decided to introduce himself to the South African golfer. "I quickly introduced myself and shook his hand and he and I chit chatted about Memphis and his experiences at the St Jude (golf tournament) many years ago. Then in walks Andrew so I introduce Andrew to Gary, and he immediately starts talking to Drew about his game," he said. Mr. Hughes said Player asked Andrew about his golf handicap, how often he practices, what's his weakness and more. "It was rapid fire questions. Then he showed him some swing thoughts in the locker room. It was just good fun and nothing too detailed. Then we wished each other well and walked out of the locker room." Mr. Hughes and Andrew left the locker room thinking what a memory they had just made. But that memory was about to become even more amazing.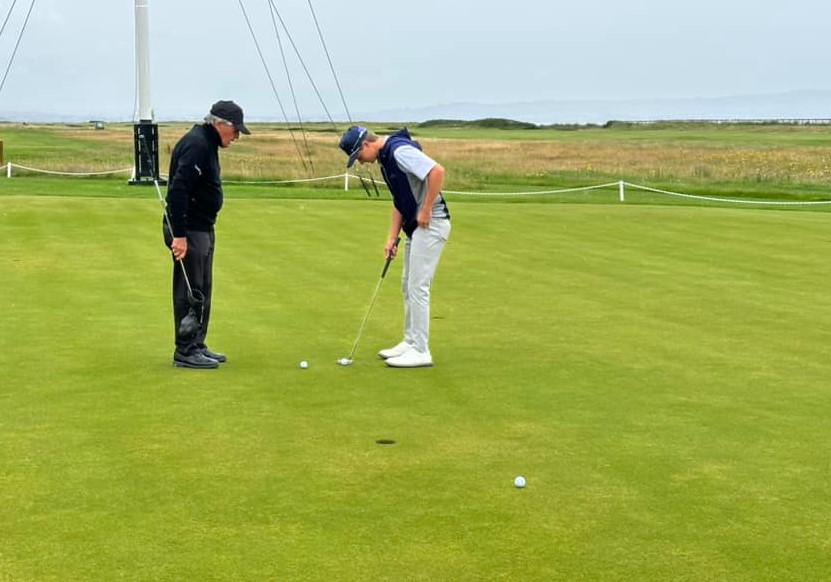 "15 minutes later, Drew and I are chipping and putting in the practice area. Gary Player and his entourage walk out and then a bunch of people started chatting up the Black Night! A minute goes by and Player sees Drew putting. He walks up to him, and he says Andrew let me see you putt. He remembered his name which was cool in and of itself," the proud father said. Mr. Player watched Andrew putt and started to give instructions and tips to improve his putting. "It was simply awesome to watch. Luckily, I videoed a few of their interactions, but mostly I just watched them talk about putting." He said Gary Player also spent time giving the young Lakeland golfer nutrition advice and exercise advice. "(Player) starts talking about how he (Andrew) owes it to God to feed his body (Player calling it God's Temple) with good food and exercise," Mr. Hughes said.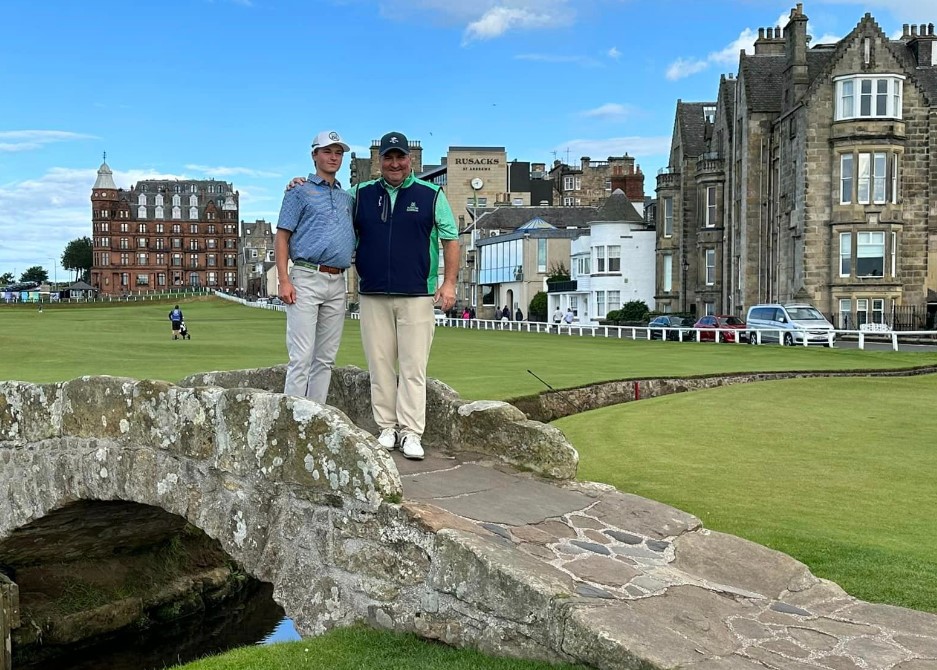 Mr. Hughes said Gary Player was down to earth and humble even asking about Chris' life. "He started talking to me about my business (Orthopedics) and he was fascinated about the company I started. He then showed me his recent scars from melanoma resections and how important sun screen is. He then lectured Drew about sunscreen," Chris said.
The trip, which had been planned for a long time, was a tradition for Mr. Hughes who took his three daughters to Paris when they were teenagers. He joked that he told Andrew, who will be a junior at Briarcrest Chistian School this fall, he could take his future wife to Paris one day so they should just go play golf. "The whole experience was just so unreal. Here we are, a random father and son on a golf trip and bam, Gary Player is part of it," he said.
"This is my fourth trip with my 4 kiddos and I feel like the luckiest Dad ever to pull these off," he said as he signed off from Scottland looking forward to another day of creating some unforgettable golf memories.