The LPS Swim Team just closed out an exceptional 3rd season.  The team is coached by LPS parent Kristen Boles and sponsored by fifth grade teacher Kim Clemens.  They have grown from 11 swimmers in their inaugural year to 18 this year.
A grueling practice schedule began in February on Mondays, Wednesdays and Fridays from 6:30-7:20 AM at the Bartlett Recreation Center.  Coach Boles boasted that they were always on time for the early morning swims, showing true dedication from both parents and students.  "We had a wide range of skill levels so we often wrote 3 different workouts per practice then came together for some fun at the end", said Coach Boles.
Coach Boles said she couldn't have done it without the help of Mrs. Clemens, who took care of school communications, purchase orders with the school office and was a constant presence on the pool deck at meets to make sure swimmers made it to their events on time.  Of the team, Coach Boles stated, "Swimming has a lot of technical work and it takes practice.  They had no problem laughing at themselves and then trying again. I am so proud of these kids.  This is a fun group of coachable kids who grew as swimmers and outperformed themselves at the Championship."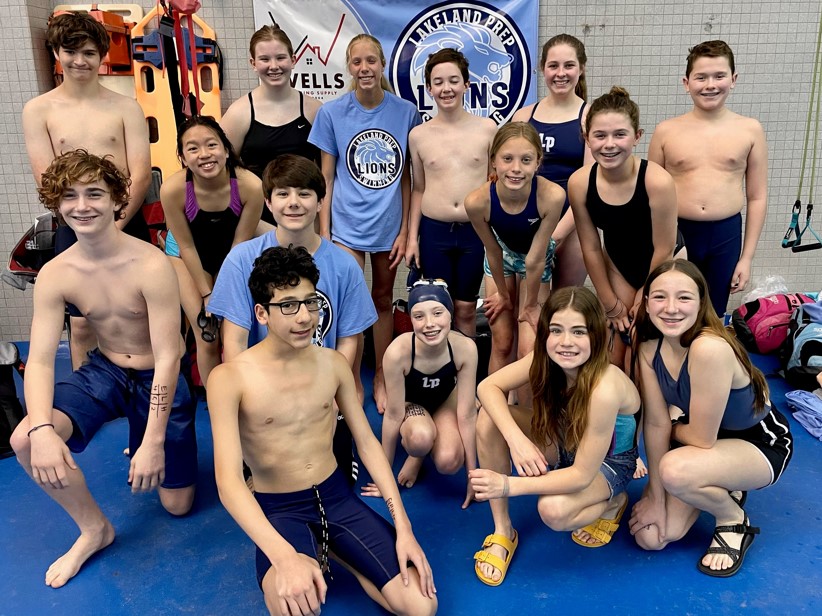 The season consisted of three meets made up of one with sprints, one with championship events and one with relays. The final championship meet was held on April 9th at the Germantown Athletic Center.  The teams were divided into large, middle, and small schools according to roster size, with LPS in the middle division.  The girls won 1st place overall (without separating into divisions) by beating out Collierville 298 to 296!  The team won 1st place for the Middle Division Combined (men's and women's combined score).  The boys got 6th place with only 6 boys.
Impressive events and times from the Championship meet:
Maui Boles won the 100 IM 1:04.92 and 50 fly 26.96
Her 50 fly was 0.33 seconds off the middle school record of 26.63.
The Girls 100 Medley relay team, consisting of Adelaide Fabacher, Maddie O'Mara, Maui Boles, and Teal Boles was second in 1:05.56
Teal Boles was 2nd in the 200 free 2:26.59 and 4th in the 100 Free 1:08.20
Nathan Harrison was 2nd in the 200 Free 2:32.25 and 4th in 100 Free 1:04.18
Girls A 200 Free relay team consisting of Teal Boles, Maddie O'Mara, Adelaide Fabacher, and Maui Boles got 2nd with a time of 2:06.45
Girls B 200 Free relay, consisting of Kate Sheridan, Josie Li, Morgan McMahon, and Lyllian Bogue placed 7th with a time of 2:28.59, beating out Collierville's B relay which was important for points.
Adelaide Fabacher was 4th in 50 back with a time of 38.12, and 7th in 100 Free with 1:14.10
Maddie O'Mara was 4th in the 200 Free with a time of 2:47.70 and 4th in the 50 breast with 44.29
The team ended the season with a splash with a cannonball jumping contest judged by the parents, where Devin Conaway beat out Stormi Boles in the Finals.  This is a team to watch in the future.