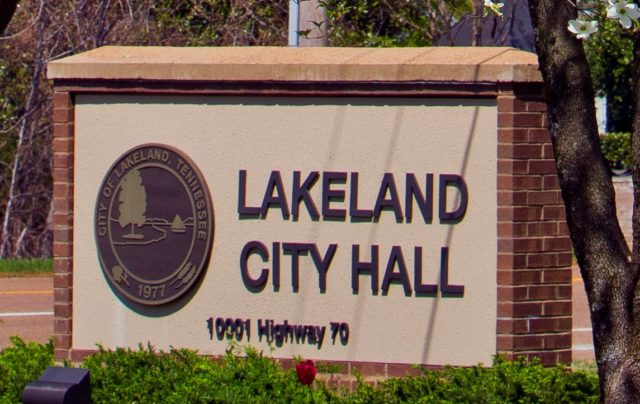 The Municipal Planning Commission (MPC) has called a special meeting at 5 p.m. tomorrow (9.14.17) to review a request from the owners of the gas station at 3665 Canada Rd at Davies Plantation Road.
There will be discussion and possible action on site improvements to what will be a Mobil Oil Station at that location including building and canopy paint color and  replacement of   canopy lighting. According to the agenda, deadlines could be imposed  to bring the site into full compliance with the City,
Link to agenda: http://tn-lakeland.civicplus.com/ArchiveCenter/ViewFile/Item/696
In recent history, the gas station was BP and unofficially was switched to Marathon.  The current plan is for the station to be Mobile.
The owners of the property appeared before the BOC Aug. 10 to request an off-premises beer permit. Nizar Lalani of Collierville and Anis Kapadia of Germantown were told they are non-compliant with the City on issues with the property such as the building being in disrepair, lighting and landscaping.  The BOC postponed granting the permit until the location is cleaned up or there are approved plans.
In August, Mr. Lalani said they have done much work inside the building and expect the entire area to be much more attractive in two months.  He said the McDonald's location could be replaced with a Dairy Queen or another franchise could rent from them.
The regular meeting for the BOC (Board of Commissioners) will be at 5:30 p.m. tomorrow.  Link to the agenda:   http://tn-lakeland.civicplus.com/ArchiveCenter/ViewFile/Item/694 .
There are public hearings/final readings on two ordinances amending sections of Lakeland's Land Development Regulations:
To clarify language on lighting and landscaping installations and residential driveway widths.
To regulate overgrown and dirty lots.
Also on tap is a resolution expanding the No Parking Area at the intersection of Kingsridge Drive and Clubview Cove in the City.
The Board of Appeals/Stormwater Board of Appeals meeting is at 5:30 p.m. Sept. 18.
Link to agenda:  http://tn-lakeland.civicplus.com/ArchiveCenter/ViewFile/Item/695 dealing with a front yard variance at 4071 Cedar Point to add an attached garage.