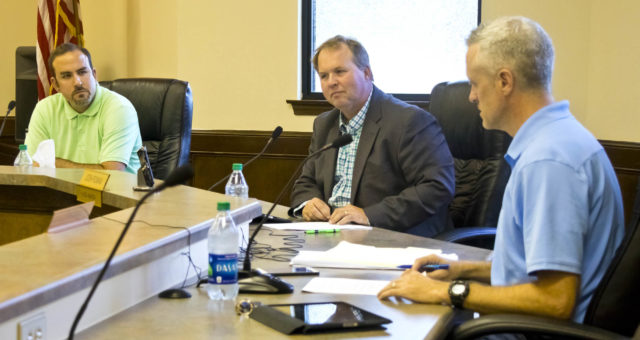 BOC (Board of Commissioners) quickly executed their monthly business meeting tonight (9.14.17) with two item removals from the regular agenda and one addition.
The addition was a resolution authorizing the sale of a City-owned house at 9996 Memphis Arlington Road to close for $275,000 instead of the previously announced $300,000. Jim Atkinson, city manager, said the buyer found a number of repairs needed in the house and made a counter offer of $ 270,000. The $275,000 was accepted by both parties.
Mr. Atkinson said the offer is cash and is to close tomorrow (9.15.17).  "It was in our best interest to take the offer," he said.  Proceeds from the sale will be used to develop a city park and athletic fields on 100 acres of City-owned property at Memphis Arlington Road and Canada Road.
Two items removed from the regular agenda were a first reading ordinance regulating "alternative financial services" in the City.  It was tabled until October.  A resolution dealing with a no parking area at Kingsridge Drive and Clubview Cove was deleted from the agenda.
Link to the original agenda:  http://tn-lakeland.civicplus.com/ArchiveCenter/ViewFile/Item/694
Two matters under sewerage commission business were unanimously approved as were three listings under the consent agenda.
The remaining listings under the regular agenda were approved: A final reading on sections of Lakeland's Land Development regulations and on Lakeland's code to regulate overgrown and dirty lots.  Commissioners approved a resolution cancelling their October work session because of fall break.  They will meet once on Oct. 5 for a business meeting.
Mr. Atkinson noted the bulk waste program started Monday, picking up large items in the City.  So far, 16 appointments have been made and 14 of those have been collected.  "We've received a lot of praise for this," he said.
Commissioner Matt Wright commented on the Parks and Recreation Board meeting which was last night (9.13.17).  He said Lakeland School Board Chair Kevin Floyd spoke to the group about the City and school system working together on athletic fields behind Lakeland Middle Preparatory School.  He noted however that the City still has full scale plans to build fields, a small lake, trails, restrooms and concessions at the City-owned 100 acres. "It is important to have fields quickly because we are using fields behind City Hall, renting lights and need more space," he said. "It would be nice to have something built sooner and we can gradually work on the City complex."
… Photo by Jim Willis, Lakeland Currents.