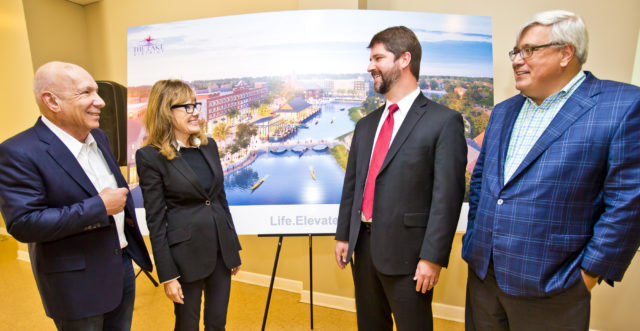 Shawn Massey with The Shopping Center Group came to Lakeland to talk retail.  And part of his 30-minute presentation to 60 members and guests focused on the largest project to hit the City and Shelby County — The Lake District (TLD).
He was guest speaker at the monthly Lakeland Chamber of Commerce luncheon yesterday (10.25.17) at the IH Clubhouse.  He is the recruitment arm of TLD, seeking tenants for the much anticipated 160-acre venue on Canada Road south of I-40.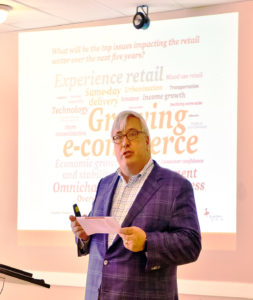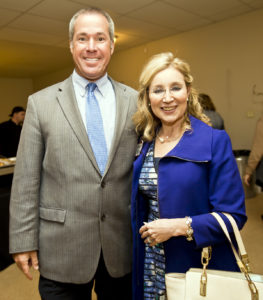 Although his talk featured "Retail 901," he saved a segment of time to discuss the walkable community that will feature various high-end districts including big box retail, a Main Street for shopping, dining and community events, a residential neighborhood, senior living and a hotel district with two hotels.
Mr. Massey explained 15 outparcels of TLD are to be sold to other developers which will reduce the retail footprint belonging to TLD. "These will be smaller retailers than big box with higher sales volume," he said.  "The developers will buy and build on the 15 parcels but the work will be closely monitored by an architecture control committee of TLD."
The same will be true for the residential district of the project, he said.  "Those lots will be sold to builders, again with design standards to be subject to review," said Mr. Massey.
He said Gilad Development Inc.  will be in charge of developing the land, infrastructure and roads and will rent the interior of the multi-use property.
He emphasized that today's shoppers want to shop, spend, eat and enjoy locally, and when shopping is done in Lakeland, money comes back to schools.  He complimented Lakeland on the recent honors for the high achieving school system.
Mr. Massey reviewed the history of TLD project starting in 2008 and explained how the project was abandoned and revamped along the way. By early 2016, he said, the original 35 acres had become 160 acres of mixed use and by late 2016 he was taking the new ideas to market in Las Vegas.  He said again there was regrouping and some of the big box retailers were cut down in favor of selling outparcels to smaller retailers.  "This will produce greater sales and greater sales tax," he said.
"This will be a much more sustainable project," said Mr. Massey.  "It will be cool, sustainable and be something you can be proud of.  You will want to bring your kids here and parents and walk and even ride a kayak in the lake."
Although he was not ready to name specific retailers for the site, he said the vision included an independent grocery store, theaters, several restaurants, gyms, hotels, a spa and bowling alley.  "We want to create the ultimate experience."
In his generic comments about retail, he said consumers are changing and want service, experiences, dining and entertainment.  "We're not your grandfather's shopping center."
He noted millennials (ages 18-34) are in their prime spending years.  "They expect speed, ease, efficiency and customer reviews."
Trends today in retail require businesses to have an online presence. "It is important to have an online presence," said Mr. Massey.  "Trends also show an interest in necessity items, health and wellness and physical stores."
He added that his biggest challenge is not luring retailers to Lakeland but getting them to commit to Memphis, citing the local airport as one of the issues. "We're not selling the suburbs. We have to get them to Memphis first."
Wil Ashworth, president of the Chamber, announced there will be no November or December luncheons because of the holidays.  But programs will start back in January 2018 with speakers and sponsors announced soon.
… Photos by Jim Willis, Lakeland Currents.