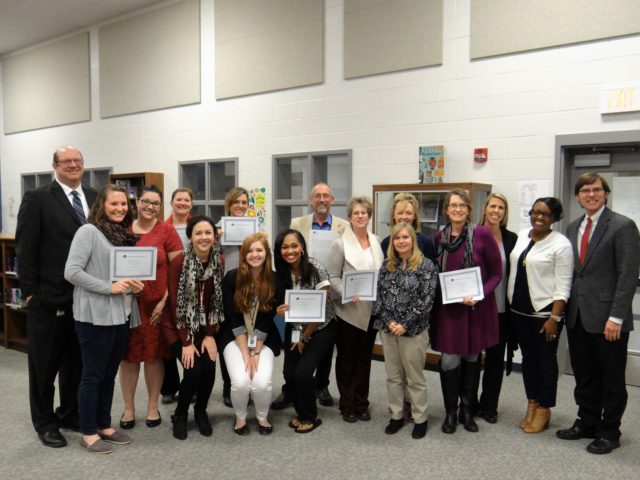 It was a night for giving and that's exactly what the LEF (Lakeland Education Foundation) did Tuesday night (11.14.17) to Lakeland School System (LSS) teachers.
There was a request for drum sets: check.  A 3D printer: check. Chromebooks for kindergarten teachers: check. And the award announcements continued for eight more wishes from seven more teachers.
Tanya Wallace, chair of LEF, led the grant announcements at the LMPS (Lakeland Middle Preparatory School) library to ten teachers including three at Lakeland Elementary School (LES) and seven to LMPS.
"It was a great night," said Mrs. Wallace.  "LEF received 11 grant requests.  We were able to fund all 11 requests.
"The total funded was $16,569.14," she said.  "This is in addition to the $8,621 we provided to LMPS at the start of the school year to fund a scorers table and chairs and bleachers for the sports field."
The specific teachers and their fulfilled grants:
LMPS
Tonya Miller for drum sets. She requested one set but two were funded.
Stephen Stearnes for a 3D printer and printing material to be used in STEM classes.
Melissa Richarde submitted two grants to purchase novel sets for 6th grade students.
Erin Wallace for the purchase a Q-ball.
Danielle Walton for all 5th grade language arts teachers for the purchase of Storyworks reading supplement.
Alison Garland for materials for Drama Club
Bethany Christy for media for an audio book club.
LES
Lee Ann Kelly for felt boards and storytelling material.
Lorna Miller for the kindergarten teachers for Chromebooks.
Kristen Nichols for Buddy Benches and anchors.
The LEF grant committee includes Tanya Wallace, chair of LEF, Desiree Freeman, treasurer, Jeremy Burnett, Mike Martin and Ursula Roman.  Others on the LEF Board are Tonya Carson, Brandy Ortiz, Ericka Ramage and Lou Ann Vaught.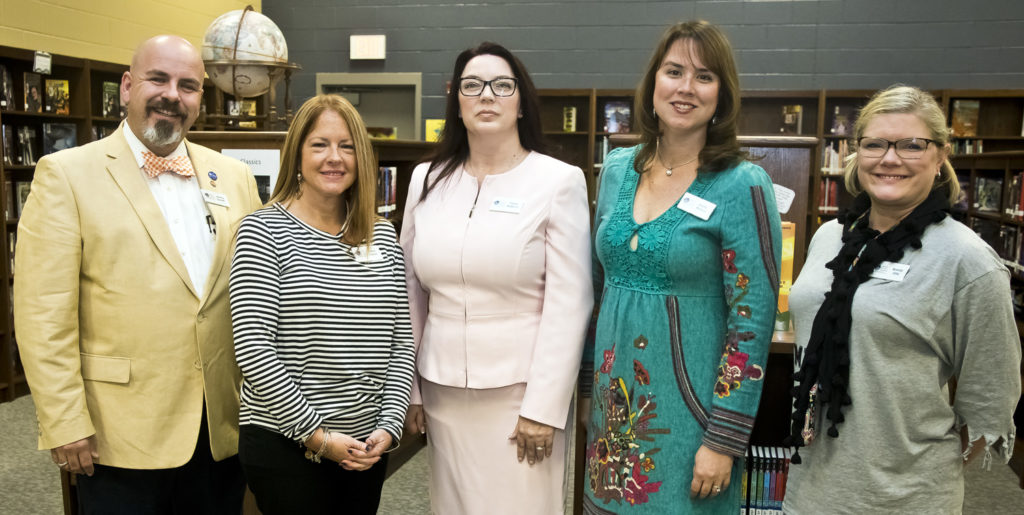 The grants are made possible by donations to LEF and support of their fundraisers.  Mrs. Wallace said the "Buy a Brick" campaign has been extended through the end of the year.  In addition, LEF is sponsoring "Omaha Steaks for the Holidays."
To support the LEF and/or their fundraisers, go to the webpage for details:   https://supportlakelandschools.org/
LEF was founded in 2014 by Cecil Tompkins who was its first chair.
… Group photo of recipients courtesy of Mrs. Wallace.