Memphis historian Jimmy Ogle will present two programs about Memphis next month at the Lakeland Senior Center (LSC).
The free programs, "Historic Memphis to Modern Memphis," will be from 10 – 11 a.m. March 7 and March 28.  Mr. Ogle is a lifelong Memphian, history buff and former Duckmaster at The Peabody Hotel.
Seating is limited, said Kim Odom, LSC manager.  Register by calling 746-8195.
Also in March will be the annual 55+ Going-Green Dinner at 6 p.m. March 9.
The Senior Center is incorporating new programs and activities into each month's schedule.  If you have a hobby to share, contact Mrs. Odom at 746-8195 or kodom@lakelandtn.org.
Workshop last week
Photos are from an Acrylic Pouring Workshop last week at the Senior Center and participants turned messy paint into masterpieces to take home.
Local artist and crafter Lois Pruitt volunteered her time and paint for the Workshop.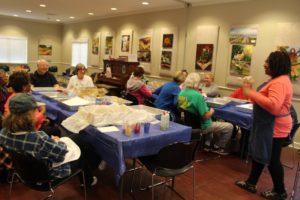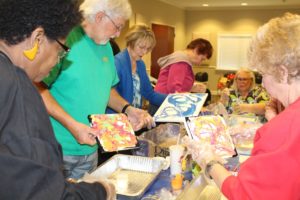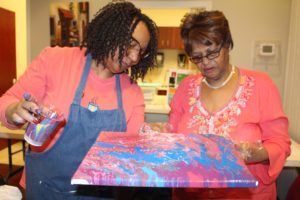 "Making a mess hasn't been this much fun since I was kid," said John Lane, Workshop participant.   Literally pouring layers of paints on canvases was the technique used to create the artwork. "It was so easy," said Mr. Lane.
"Each piece was so different because each participant had their own color theme," said Mrs. Odom. "I think everyone, experienced or not, felt like an artist today."
Details on March programs
Funeral Planning Seminar
March 6 – 10:30 a.m. "Planning Ahead. Where to Begin" presented by Brent Taylor, a licensed funeral director. Lunch served. MUST RSVP. 746-8195.
 Historic Talks by Jimmy Ogle
March 7 and 2 – 10 to 11 a. m.  Must register
Crafts with Nancy
March 9 – 12:30 p.m. Painted glass. Bring in any glassware (oven ware, wine glass, etc.) you'd like to paint. Must RSVP. Call Kim Odom 746-8195.
 Seniors 55+ Going Green Dinner
March 9 – 6 p.m. at IH Clubhouse (next door to Senior Center). Enjoy a Pink Flamingo catered meal of roast beef with gravy, mashed potatoes, green beans, salad, bread and strawberry shortcake trifle. Entertainment presented by the Bartlett Choral and Drama Club. Advance Tickets Only.  $10 and can be purchased at the LSC between 10 a.m.-4 p.m. Mon-Fri. For inquiries, contact Kim Odom at 746-8195.
AARP 2-Day Driver Safety Class
March 13 – 14 – noon to 4 p.m. Cost is $15 for members; $20 for non-members. To register, call George Coleman at 384-3581.
Crafts with Karen
March 22 – 10 a.m. Iris folding, a simple paper folding technique combined with aperture cards.  RSVP 746-8195.
Alzheimer's Caregiver Support Group
March 27 – 11:30 a.m. Meet with other caregivers taking care of a loved with diagnosed with Alzheimer's disease. The support group will be led by Laura Pate, manager of programs and education for Alzheimer's Association. Refreshments served. Please RSVP.
Link to February events: http://www.lakelandtn.gov/CivicAlerts.aspx?AID=641
 … Photos courtesy of LSC.