In a unanimous vote, the LSB (Lakeland School Board) approved a resolution that would ultimately fund a high school addition to LMPS (Lakeland Middle Preparatory School).
The called meeting tonight (12.4.17) at City Hall was one of three meetings this week necessary to get funding to complete the school campus at 5020 Lions Crest Drive into a grades 5-12 facility.   LMPS opened this August to grades 5-8.  Adding a high school wing would give the Lakeland School System (LSS) a complete K-12 system.    The BOC (Board of Commissioners) and IDB (Industrial Development Board) both have special meetings tomorrow night (12.5.17) at City Hall.
The specific resolution:
Discussion/action on adopting a resolution of the Board of Education for the Lakeland School System Requesting the City of Lakeland to provide funds to finance and refinance the construction of schools for the Lakeland School System, to enter Into all other documents related to the foregoing, and authorizing the transfer of school property in connection therewith.
Dr. Ted Horrell, LSS superintendent, explained that two attorneys have been working on this project: Eric Plumley, LSB attorney, and Josh Lawhead, both with Burch, Porter & Johnson, PLLC.
Mr. Plumley gave an overview of what had been approved and explained the process.  He said there were a lot of drafts and documents and much work from his firm, the City Attorney (Chris Patterson with Wissman Bray), the IDB attorney (Al Bright with Waller Lansden Dortch & Davis, LLP), as well as bond counsel for the City and PFM (Public Financial Management).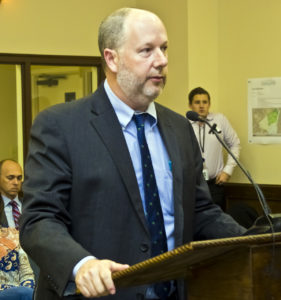 "It's been a lot of hands on deck and bond counsel has taken the lead," said Mr. Plumley.  Others on the legal team have offered review and comments, he said. "We wanted to make sure all the concerns of the School Board were addressed."
He said there are four documents, the first two to be signed by LSB:
Sublease between the City and LSB
http://lakelandk12.org/wp-content/uploads/2017/12/Lakeland-IDB-BOE-Sublease-Agreement.pdf
The interlocal between the City, IDB and LSB
http://lakelandk12.org/wp-content/uploads/2017/12/Lakeland-City-BOE-and-IDB-Interlocal-Agreement.pdf
Other documents are a sublease between the City and the IDB and an indenture between the bank and the IDB.
LSB members questioned some of the aspects of the funding mechanism including the interlocal and sublease and if the process would impede the School System's ability to operate LSS. Mr. Plumley said no regarding LSS operating the high school as it currently operates two schools.
Also raised was the concern of the IDB dissolving at some future time. Mr. Lawhead said if the IDB went away, they would have to complete their affairs, have a lot of meetings and the City would be on the hook to pay the bonds.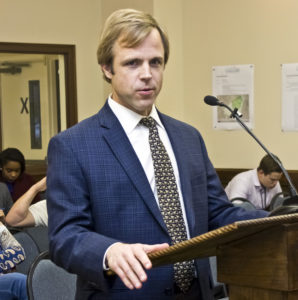 LSB member Teresa Henry had bronchitis and asked Dr. Horrell to read her statement into the record:
My job as a school board member:
Is to educate Lakeland children K-12
Yes, we have an interlocal with ACS (Arlington Community Schools) for 9-12 students
But, it has a student population trigger of 2150 ACS/LSS students
At that time ACS can give a two-year notice that they will not be able to educate our 9-12 students
Both municipalities are growing with new home construction that brings new students
There is no doubt ACS will have to give that notice at some point.
I don't have a crystal ball to tell me when the student trigger will happen
At that point we will have to build a HS. The question will be can Lakeland afford to do it at that time?
Since the tax reform bill has passed the House and Senate, all that is left is for the committee to marry the two so that they are the same.
The part about the refinancing of non-taxable bonds is expected to stay since both sides passed the bill with it included.
The BOC has stated that they can afford the payments within the current budget without a tax increase, no decrease in services to Lakeland residents.
Doing it now will mean doing it without the BOC having to raise taxes for Lakeland residents.
If we wait, the BOC/IDB will not be able to combine the debt and have a lower payment that two separate notes.
If the BOC waits, it very likely would mean a tax increase to residents
Waiting will also be more expensive as construction costs have already cost the City almost $6M more that it would have been three years ago to complete the project
All this being said, I have to vote to protect LSS to be able to educate Lakeland children K-12.
I would prefer to do that without costing the residents any additional tax and that means doing it now.
The additional special meetings this week are tomorrow (12.5.17) at 5:30 for BOC and 6:30 for IDB.
… Photos by Jim Willis, Lakeland Currents.