The new Lakeland McDonald's on U.S. Highway 64, just east of Walgreen's is open for business today.
It replaces an older McDonald's further north on Canada Road which was shuttered in September.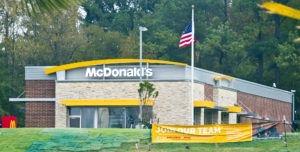 Construction continues on two other Lakeland projects:
The Pet Hospitals, being built on Canada Road just north of their current location in the Corner Shops of Lakeland at Highway 64 and Canada Road.

Regions Bank which is under construction in Corner Shops.

… Photos by Jim Willis, Lakeland Currents.