Philip Dotson, a member of the LMPS Lions Boys Basketball Team, was named to the All-Tournament Team for the Municipal Schools Regional Basketball Tournament following Tournament play Jan. 23.
The eighth grade, straight A, honor student was the only Lakeland player to receive a medal for his play in the Tournament.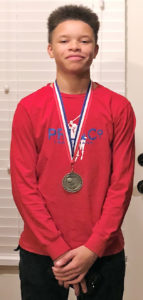 The Lakeland team lost in tournament play to Schilling Farms Middle School Jan. 20 in the Tournament which was hosted this month for the first time at LMPS.
Philip transferred to LMPS this school year from Arlington Middle School when the new Lakeland middle school opened in August 2017.  It serves grades 5-8 and Lakeland Elementary School serves K-4.
Phil Dotson said his son left his team and all his friends at AMS, but made the most of the opportunity.  "He said he wanted to be a leader in everything," said Mr. Dotson.
And lead is what he did.  According to Mr. Dotson, Philip is eighth grade president for Student Council, was a wide receiver for the LMPS Football Team and made the first touchdown for the season. He is active with his family at Greater Imani Church, The Cathedral of Faith.
Mr. Dotson said the basketball team played 15 games during the season and won 5.  "But the great thing is that that they improved every game.  They showed tremendous growth and confidence in themselves.    By winning the last game of the season against Millington, they were able to get into the Tournament."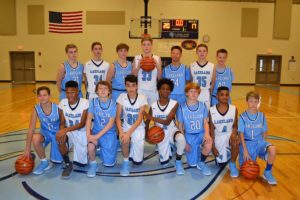 Philip has a brother, Bryce, who is in third grade at LES.  And mom Cassandra was a three-time National Champion on the University of Memphis Pom Squad from 1991-1994.
According to Mr. Dotson, Philip's basketball stats for the year included 20 points per game, 4 assists per game, 3 rebounds per game and 2 steals per game.  He plans this summer to focus on his training through the AAU (Amateur Athletic Union).
"We are so proud of him," said Mr. Dotson.  "We have enjoyed our experience at Lakeland. And the most important part is that he is a straight A, honor student," said Mr. Dotson.
In the fall, Philip will transfer to Arlington High School through an interlocal agreement with Arlington and Lakeland.  The arrangement serves Lakeland high school students until a high school wing can be added to the newly built LMPS.