The LMPS Lady Lions basketball team played against Houston Middle School last night (1.11.18) but were unable to win the final game before the regional  tournament starts next week. The score was 48-25.
Candice McGuire, girls' coach and LMPS eighth grade math teacher, said, "We had really hoped to continue playing into next week.  The girls have improved so much this season and played so hard."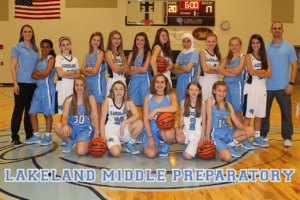 The Regional Basketball Tournament is being hosted at LMPS (Lakeland Middle Preparatory School) and Houston Middle advances to the tournament.  Link about the tournament which is Jan. 17-18 and 22-23:  http://lakelandcurrents.com/regional-basketball-tournament-at-lmps-next-week/
Of her team, Mrs. McGuire said, "These ladies came together in October, many not ever having played basketball and most not knowing each other, and we built a team.
"They worked hard the entire season, doing everything we asked of them to the best of their abilities.
"They kept their heads held high and played with heart and hustle every game.
"To watch these ladies grow so much as players, but more importantly, as teammates, this season has been so incredibly rewarding.  I am so proud of each one of them and they will forever hold a special place in my heart."
Mrs. McGuire said there are 15 ladies on the team: seven eighth graders, three seventh graders and five sixth graders.
… Photos by Chris Godwin, LMPS athletic director, and KyLynn McGuire, Mrs. McGuire's daughter.