It was a twofer in Lakeland tonight: An official ribbon-cutting at the new McDonald's and the LMPS band on hand to regale the crowd with their new skills.
The ceremony was at the newly opened McDonald's, 9940 U.S. Highway 64, just east of Canada Road. And the seventh and eighth grade concert band from Lakeland Middle Preparatory School was front and center to entertain with a medley of Armed Forces songs. The band is newly formed because the middle school opened to students this August and is directed by Anneliese Land.
Following the musical presentation, Mayor Wyatt Bunker welcomed the crowd and recognized the LMPS band.  "It is another exciting day for Lakeland," he said.  "I appreciate Mr. (Fred) Tillman for choosing Lakeland.  It is a pretty stunning building."  Mr. Tillman is the owner-operator of the new McDonald's and owns the franchise for 68 stores in the Memphis area.
Mayor Bunker noted City elected and volunteer leaders on hand including Vice Mayor Josh Roman, Lakeland School Board member Teresa Henry, Lakeland Chamber members Kevin Bailey and Billy Rodgers, Economic Development Commission Chairman Steve Laster, City Manager Jim Atkinson and Brittney Buchanan, executive director of the Lakeland Chamber of Commerce.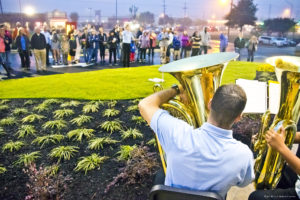 Also part of the evening were officials of the new restaurant: Justin Winbush, the general manager; Jordan Sharp, shift manager; Lamtria Hurd, department manager; and Ronnie Leonard, area supervisor.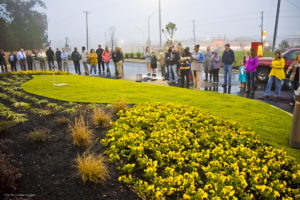 The fast-food eatery has more special events in the coming weeks:
11:30 a.m. to 1 p.m. Friday (11.10.17) with a radio remote and prize giveaways.
11 a.m. to 1 p.m. Dec. 2 will be the grand opening.
The new location features a modern décor with four digital menu boards inside and children's games, said Lisa Clifft, director of operations.  There is table service for lobby guests and mobile ordering, she added.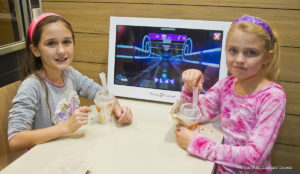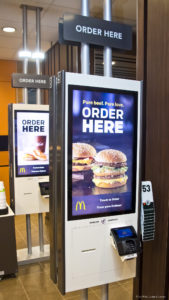 … Photos by Jim Willis, Lakeland Currents.