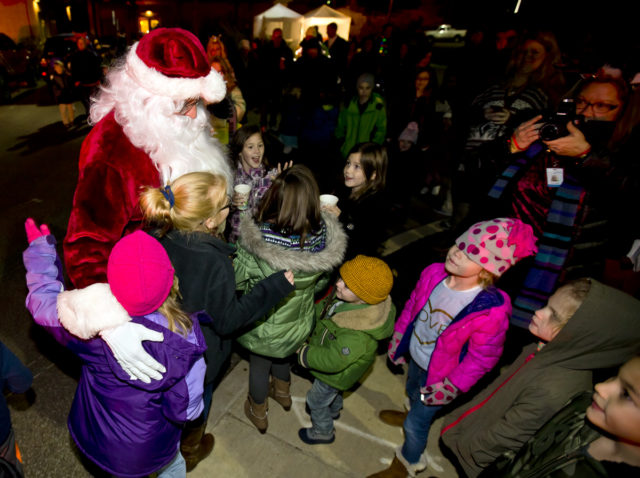 Santa will be in Lakeland from 6 to 8:30 p.m. Friday night (12.8.17) for the annual Christmas Festival at IH Clubhouse (IHC), 4523 Canada Road.
The free family event will feature complimentary pizza and hot chocolate from sponsors Papa Murphy's Pizza and Starbucks said Kim Odom, special events coordinator for the City of Lakeland.
"Santa is expected to arrive by 6:20 p.m., and will be traveling in his brand new Corvette," said Mrs. Odom.  "On a countdown from the crowd, Santa will light the outdoor Christmas with his Christmas magic. Once the tree is lit, everyone is invited inside. Papa Murphy's will serve up hot fresh pizzas for the occasion. Starbucks will donate hot cocoa to keep the chill away."
She said Santa will set up shop inside the Clubhouse to meet the good little girls and boys of Lakeland and hear all their Christmas wishes.
As children wait to meet Santa, they can make crafts, have their faces painted or visit Mike the Balloon Man. Children will have the opportunity to make a Christmas Wish List to hand deliver to Santa. "Who knows, maybe they will get a return letter from Santa in the mail," said Mrs. Odom.
Parking will be available at First Baptist Church of Lakeland (across the street from IHC) and in the new gravel parking lot. Shelby County Sheriff's Office deputies will be directing traffic. For more information, call Lakeland City Hall at 867-2717.
Any updates will also be posted on the City Facebook and Twitter pages and Comcast's Ch. 19.
The Festival is coordinated by the City Parks and Recreation Department.