The City is festooned for the holidays with a ginormous Christmas tree, pole sign banners, wreaths, bows, lighted stars as well as seasonal petunias planted at the two Gateway signs and City Hall.
Elves on the City staff decorated and planted throughout the City.  There are holiday banners along Canada Road south of I-40 and at the IH Clubhouse, also the location of the very large decorated Christmas tree.  Wreaths and bows decorate both gateway signs located on U.S. Highway 64 near Sprouts Farmers Market and on Canada Road just north of Highway 64.
Lighted stars brighten the City Hall parking lot light posts.
The tree at IH Clubhouse will be part of Lakeland's Christmas Festival from 6-8:30 p.m. Dec. 8 at the Clubhouse.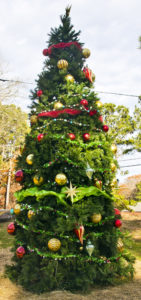 … Photos by Jim Willis, Lakeland Currents.  Photo album to Christmas banners within the City. https://photos.app.goo.gl/vA2uH5ghvc6lMBuE2