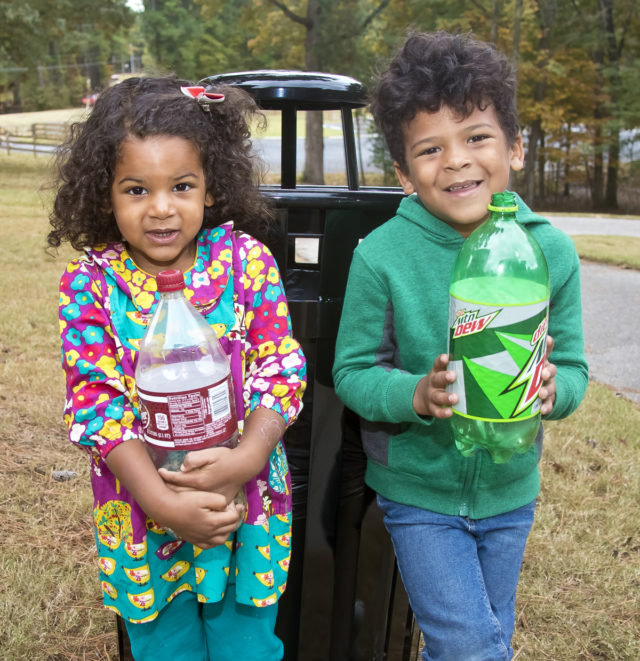 Brenner Brown is a typical five-year-old who likes the heroic pups in PAW Patrol, an animated series on Nickelodeon whose theme is "no job is too big, no pup is too small" to protect the community.
And with his love of green and recycling, it was a natural that his birthday wish this fall was to purchase recycling containers for IH Park, 4523 Canada Rd in Lakeland, instead of receiving traditional birthday gifts.
His mother, Kembree Darakshani, said, "Brenner's favorite cartoon character is Rocky from PAW Patrol, his favorite color is green and the kids enjoy helping me recycle at home, so it only made sense to do something like this.
"After realizing there are no recycle cans in our parks that we frequent, we came up with the idea. I noticed at my hometown park in Farragut, TN they had several recycle trash cans at the parks, so my head started spinning and the idea was there."
And so began the planning for the "donations in lieu of gifts" party at IH Park, according to Ms. Darakshani who lives with her family in Lakeland.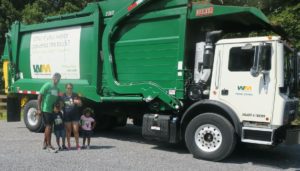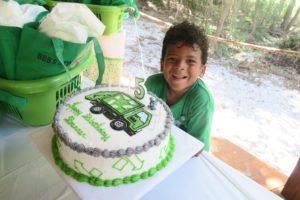 You can donate to Brenner's birthday wish
"We are within $300 of their goal of $1,400 for the two containers and others can donate to the cause," said Ms. Darakshani.  There is a link on the Lakeland City website to donate to the containers, according to Kevin Rooney, director of the Parks and Recreation Department.
"We had 40 children and their parents and some adult friends and family come to the Sept. 17 party. So around 75-80 people," she added.   And the star attraction was a Waste Management waste truck, and of course a birthday cake complete with a truck.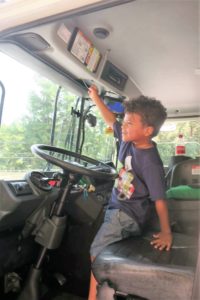 She said it costs $1,400 to ship two recycling cans both on a pallet.   "One will go by the entrance of the IH buildings and one by the water. I have noticed so many water and Gatorade bottles in the trash can any time I am there.  There are so many active walkers and runners.   So for sure there is a need.
"If there is a cigarette disposal there is a need for recycling in Lakeland. We are that community.   We care about our trees and recycling.  And we would love for them to be at all parks.
"We love the fire station park too (Windward Slopes Park).  And yes we are lacking around $300 still, so grateful to all who have donated this far."
How to donate
Mr. Rooney said anyone can donate. "Anyone is welcome to donate to it, and here is the direct link to our webpage: http://leagues.bluesombrero.com/Default.aspx?tabid=1226034.
"We just set this up temporarily as a way for their out-of-town friends to donate to the cause. Since we were short we have been sending it out to everyone to help reach the goal. Otherwise we just have a general donation fund that we collect at City Hall, and the option for families to donate to their child sports program when they sign up.  If other people have fundraising ideas we obviously won't turn them down."
Ms. Darakshani and her husband Tony Brown have two other children: Bijou Brown, 2 ½-years-old and Bahar, 17-months-old.  Brenner is in pre-kindergarten at St. Paul UMC Preschool and will be in kindergarten next year at Lakeland Elementary School (LES). "He is excited every time we pass LES.  I can already see us trying to implement something there too."
…Photos courtesy of Kembree Darakshani and by Jim Willis, Lakeland Currents.